We need a wall! Not a little one like that proposed between the USA and Mexico; and not an unfunded one either. We need a wall that surrounds NSW. Why?  Because other States and Territories are taking liberties by holding events in NSW without permission.
Case in point, this weekend the ACT Rogaining association will be holding a 6-hour event in South Durras, which is 149 kms outside of the ACT and 110kms away from Jervis Bay (which everyone know is really part of NSW anyway.) The Queenslanders have also been known to take liberties by using the Premier State without permission.
This wall sounds ambitious;  can we really do this?
Yes!
What will this Wall Cost?
The NSW Border is 4,625 kms long. A reasonable brick wall costs about $100 per metre so our wall will only cost $3.6Bn. This expense is well worthwhile; just ask the Chinese who built a much longer wall to stop the Mongols from rogaining in China.
How do we Fund this Wall?
We will fund this wall by charging the Huns people from other States and Territories a modest fee for rogaining in the Premier state. There will be two charges. One for out of state competitors entering NSW events and another for other States and Territories for using the Premier State for their events, assuming they are granted permission.
Permission to rogaine in the Premier State would be made by application similar to the following: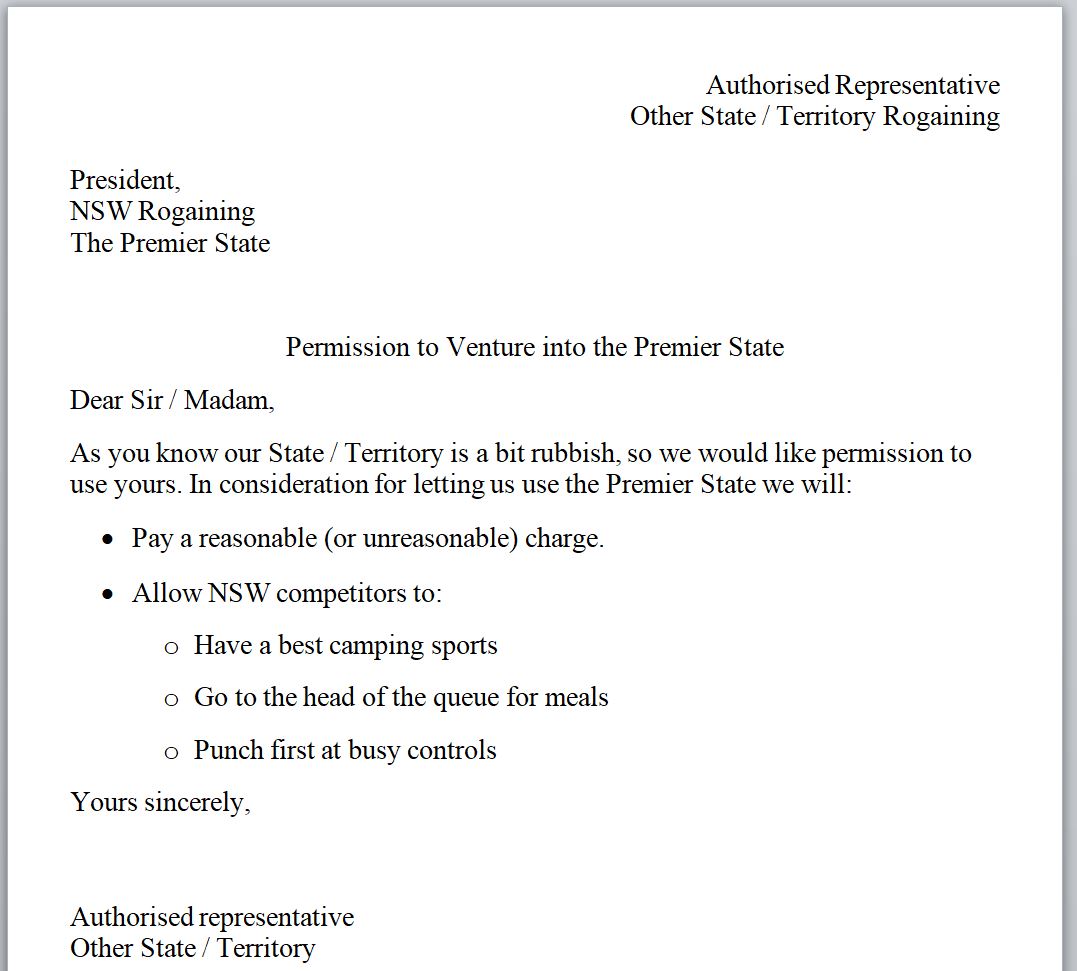 Using these two sources of revenue I expect we should be able to fund our Wall in well less than a billion years and we will reap the benefits until the Sun destroys the earth shortly thereafter.
Join our Protest
I want … nay, expect… all NSW Rogainers to protest at the invasion of their precious and sacred rogaining territory. The protest is easy to join.  All you have to do is enter and win as many ACT and Qld rogaines held in NSW, as possible. If we do this for the next decade, or so, they will get the hint and confine their rogaines to within their own borders.
On a Serious Note
We love the ACT (and Qld) using the Premier State for their rogaines. A lot of work goes into setting and running a rogaine. The more events that the ACT hold in the Premier state, the less work busy Premier State rogainers need to put into organising rogaines. I like ACT rogaines because I can attend, compete and leave without feeling guilty about flag collecting or helping out (well, perhaps a little less guilty).
So if you are reading this and you are not from the Premier State, then how about organising a 12 hour rogaine around Kanangra Walls Rd. I am keen to go back, but do not want to help organising it.
BTW there might still be late entry for this weekend at Durras.  Check it out here.
What about Orienteers?
My plan for keeping out-of-Premier-State orienteers from NSW is a much simpler one. If we simply re-draw NSW maps with about 5m of fight scrub across the border they will never find out what is on the other side.