By John Anderson

Well known NSW rogainer, John Anderson, has written and self-published a book about James Macarthur and his role in the bringing about the first ascent of Mt Kosciuszko. It sheds new light on Strzelecki's climb to make it to the summit.
I learnt from the book review that John has climbed Hannels Spur (Australia's biggest vertical ascent) leading to the tops of the Main Range three times which helps explain why he can be difficult to keep up with on hills in rogaines.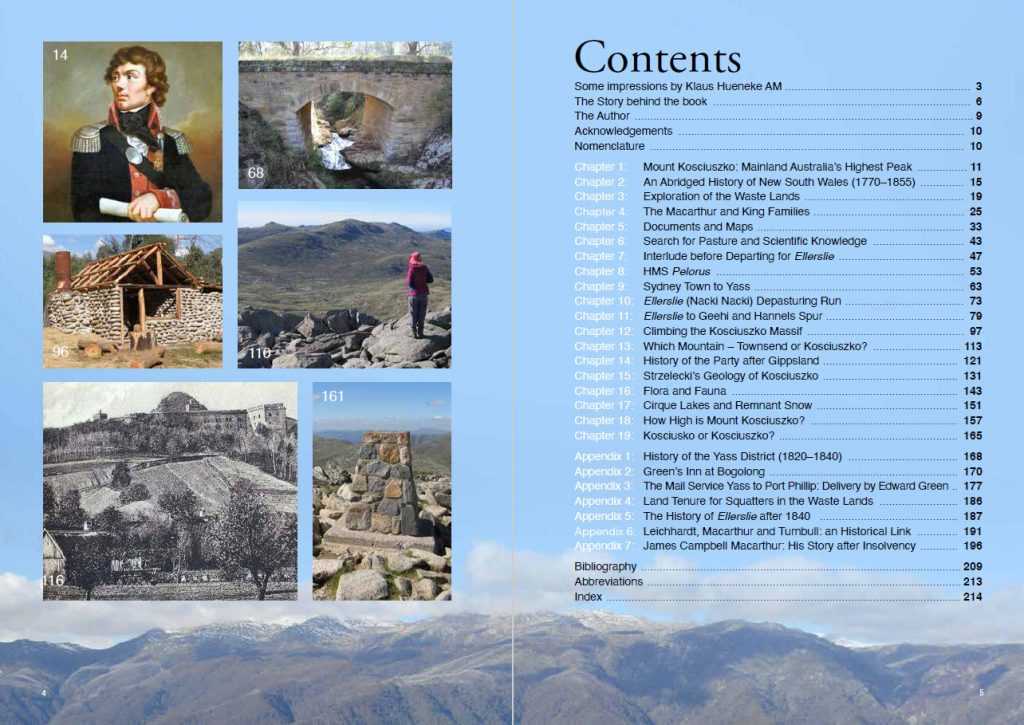 Some impressions by Klaus Hueneke AM, historian, photographer, writer, publisher.
I'm more of a roving storyteller than a conscientious historian but I take my beanie off

to those who like John Anderson are content to spend many days studying in silent libraries and

confining studios. Along the way he mined numerous old newspapers, early books,

definitive journals and academic papers. Then to reinforce it all, he and his wife travelled

widely across Australia, as well as Mount Kosciuszko, to imbibe locations significant to

the story and to take photographs.

He must be one of only a handful of people who have climbed the Hannels Spur Track, the same route used by Strzelecki in 1840, three times.

Perhaps he heeded the advice of Professor Keith Hancock, author of Discovering Monaro,

who often said the best historians go out and feel the land through their boot soles.

Behind every famous person or significant event there are others who have done the hard

yards to make it happen. We have heard a lot about Strzelecki and his climb of Kosciuszko

from various older books but, until now, little about how he got there and who helped

him. James Macarthur, a grazier looking for new pasture on the Upper Murray was a key

player and supporter. He even got off his horse and became a fellow mountaineer for a day

or two.

It was the same for other significant high-country events like the first ski crossing

from Kiandra to Kosciuszko in 1927. Herbert Schlink, a doctor, got the credit but Bill

Hughes, a Kiandra local, laid the groundwork and did the navigation.

This book complements the many books by Alan Andrews especially his Kosciusko – the

Mountain in History. I can see Alan in my mind's eye devouring and examining every page.

So would, I imagine, be Elyne Mitchell, the author of Discoverers of the Snowy Mountains

as well as a dozen books about silver brumbies, and who lived on the Upper Murray within

sight of the route taken by Strzelecki. Both authors are complimented and referred to in

various parts of this book. Such passing on of mountain lore is so good to see.

The large number of paintings, illustrations, photographs, maps, etc. suggests that John

is a very practical, physical and visual person, ie he likes to tell the story in more than

words. There are striking photographic surprises around every corner. These include some

very sharp pictures of Dr Forbes Hut being rebuilt, close-up photos of mountain gentian

and various rock formations, the still extant stone arch bridge over Towrang Creek north

of Goulburn and the chunky stone chimneys at Port Essington in the Northern Territory.

I enjoyed being rapidly transported from the past into the present and back again. Further

mood, immediacy and even sadness are imparted by photos of John's tiny tent in alpine

mist and his wife waving him farewell from across the raging Geehi River.

This book is an expression of love in many of its forms – the love between John and his wife

Kath who was with him for every step and comma, a love of books, history and learning,

a heartfelt love of the Australian bush especially the rare and dramatic high country; a

love for those often neglected in big picture histories, and a love for contributing another

volume to the bigger picture – the one that's called our cultural heritage and history. It is

much more than the journey to, or the naming of Kosciuszko.