If we were to take a survey of physical ailments that rogainers experience on the course, I would be very surprised if foot problems did not top the list. It would be wonderful if I could give an objective solution to foot problems, but unfortunately our feet are not cooperative enough to be standard sizes to allow this!
It is for this reason that this topic will be "solely" dedicated to what you put on your feet. I asked some rogaining regulars about the shoes they wear. In the absence of rogaining-specific footwear, the general consensus is that the optimum choice for a long rogaine is a heavy-duty trail running shoe, the three most popular of which are:
I have gone further to again get some specific questions answered by three long-time rogainers. Queensland's Richard Robinson (self-described as the greatest rogaining tragic on earth) shares his thoughts on shoes, socks and looking after your feet. And from NSW, Volunteer Coordinator Graham Field and Secretary John Clancy also share some insights.
Graham tells some backstory about realising the significance of having the right footwear: There have been several turning points in my rogaining experience, since my first event in 2011 – finally being able to do an event without getting blisters was one of the big ones. It made all the difference in being able to enjoy and perform at a higher level and actually be competitive. Not that this has resulted in many placings, but I could finally concentrate on the enjoyable and physically challenging aspects of the sport, rather than challenging my pain threshold for several hours.
Compared to many, I'm very lucky in that my feet are particularly ordinary – no weird toes or toenails, bones and structure approximately normal. I did however get really bad blisters and, after many years of pain and suffering through events with pre-emptive taping and fancy blister pads, I came to the conclusion that finding the right shoes for your particular feet is the most important factor.
Graham continues: For the past 5 years or so I've been wearing Hoka One One Tor Summit shoes (pictured above). I'm onto my third pair and use them for anything that involves walking in the bush where there might be rough uneven terrain involved. These are the only shoes that I've ever had that won't give me blisters when doing any sort of distance. They also have great cushioning and reasonable support. They have leather uppers and a Vibram sole which offers great grip and durability. Unfortunately they are hard to find now, but my next choice would be to see what Hoka's current offering in a solid walking shoe would be.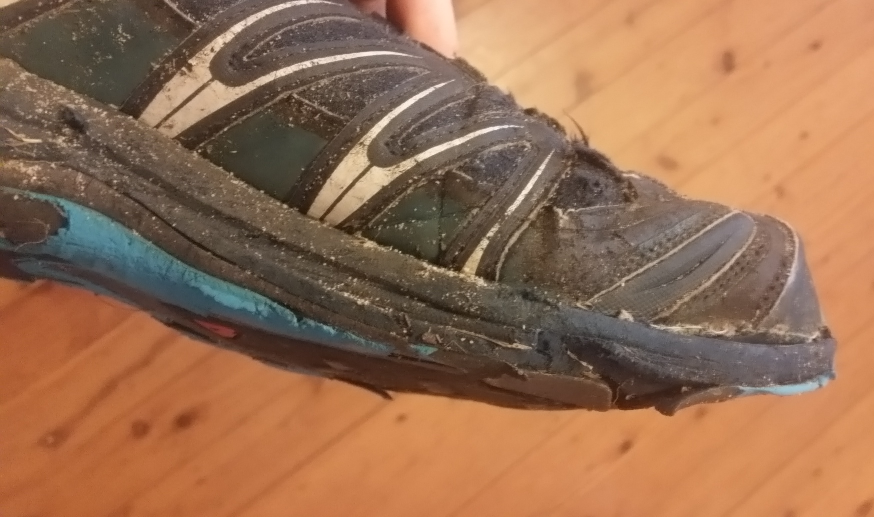 Tristan White: When trying on pairs of shoes, what should one be looking for?
Richard Robinson: Regular rogainers tend to have a particular brand and/or model they know works for them. However two things I recommend for new and unfamiliar shoes:
With the shoes undone you should be able to slip one finger down the shoe behind the heel without your toes pushing into the front of the toe box
With the shoes done up you should be able "hang" over the edge of a step just gripping the heel section of the shoe and point down at 45 degrees and with all your weight without your toes pushing into the front of the toe box.
Graham Field: When fitting in the shop, make sure that you have your preferred rogaining socks on. It's very hard to determine which shoe is going to work for you in a shop setting, so I find that the main things are making sure that there is good ankle fit (i.e. your heel doesn't move about when you walk) and there is plenty of room at the front – your toes must not touch the end of the shoe and your little toes do not touch the sides. Always err on the large side so long as you can get a firm heel and ankle fit. Chances are that you will go through several different brands before you find the one that best fits your feet.
John Clancy: Comfort and durability. For me it's Merrills, very comfortable for my wide feet.
TW: How long should you spend trying to break-in a pair of shoes before wearing them in an event?
RR: If one 3+ hour session doesn't do it then they are probably not ever going to be much good.
GF: Break in depends on how methodical and risk averse you are as well as how much spare time you have! If you've got the right shoes or a new pair of a trusted shoe, there will be very little break-in required, so a shorter event (like a 6hr) is a good compromise. You may as well be out there rogaining!
JC: 7–10 days.
TW: How could a person's choice of shoe change from one event to another depending on the terrain (and weather) of the event?
RR: It doesn't for me but some people will change. I only buy running shoes that I think are suitable for rogaining.
GF: It depends on how serious a rogainer you are (see Chris's quiz). The only choice I'd make would depend in how much running I'm likely to do, so for a Minigaine or Urban 6hr I'd probably go with a running shoe. As for wet weather, just get used to having wet feet – there's no such thing as waterproof shoes.
JC: In wet weather or in heavy rocky/shale country I prefer boots.
TW: What are the advantages of wearing hiking boots with ankle supports in favour of trail runners?
RR: There can be advantages to boots in heavy rock country like the Flinders Ranges. Personally I stay with trail shoes with a solid Vibram sole plate.
GF: I prefer not to have ankle support – all the shoes/boots that I've had with ankle support have resulted in bad blisters, but this may not have been because of the ankle support, so it's probably an unjustified concern. Apart from being more expensive and heavier, unless you have particularly weak ankles, I wouldn't bother.
JC: Better ankle support.
TW: What are the benefits of shoes with mesh, and why take caution if wearing mesh shoes in a rogaine?
RR: Mesh allows in grass seeds. If using mesh then make sure you have a Gore-tex lining.
GF: I haven't tried it, but an additional layer sounds like a good idea if you're exploring blister prevention – I'd probably use two layers of thin socks though because of the sponge effect.
JC: I don't use them. I expect they provide better ventilation in hot weather but the down side is no moisture protection in puddles or streams. (Caution: beware of wet socks when near water and potential blisters.)
TW: Is there anything else you put on your feet either before or during a rogaine to help minimise blisters forming or otherwise enhance comfort?
RR: One quickly knows where one's feet are vulnerable to hot spots. I tape all these before I put my socks on. I will also use a lubricant between the tape and my skin on key areas to create another "slip" surface. I wear Injinji toesock coolmax liners with Sockwa Bamboo No Show outer socks, which has made a massive difference. I have materially reduced toe blisters since changing to Injinjis
GF: Once upon a time, if I knew that it was going to be wet, I'd put Vaseline on my feet – I suspect that it had little effect. A better solution would be carry a pair of dry socks, or get back to the HH in a long event for a pair of dry shoes.
JC: Cotton socks in shoes and two sock layers with boots to prevent blisters. One thin (liner) pair and one thick pair. The benefits: comfort and no blisters. It might be an old bushwalker's wise tale but it does work! Also – always have two pairs of socks when purchasing new boots. That way you make sure the boots will be the correct size for your feet.
TW: Do you have any recommendations for what should be done if hot spots begin to form, and what should be carried to address this?
RR: Lubricate and tape them absolutely immediately. I always carry strapping tape and a lubricant of some description.
GF: I used to carry blister pads, but these won't last on hot sweaty feet, so you need several of them to get you through an event. Additional taping helps. Ideally, know where you're most likely to get blisters and put them on when your feet are dry and fresh. A last resort is pain-killers, but these can cause worse problems if used excessively. If it gets that bad, pull out of the event.
JC: Apply bandage (blister patch) before the skin or "hot spot" breaks!
TW: Thanks for your thoughts Richard, Graham and John!
Do you have a particular item of rogaining gear that you feel passionate about? Or further thoughts about footwear? Please don't hesitate to get in contact with me or add a comment to this Forum article.