What equipment do I need?
Having the right equipment can make a big difference to your enjoyable and safe participation in Rogaining. If you are already active outdoors then you probably have much, if not all of the gear you will need to get started.
Clothing
Factors to consider in choosing Rogaining clothing:
Comfortable and durable active wear (like trekking pants and long sleeved shirts) for the expected temperature range
Clothing needs to be loose and flexible or clinging and stretchy to avoid chafing
Thermal properties for cooler temperatures (warm when wet)
Layering (several layers to put on or remove to keep warm but not hot or cold}
A windproof, waterproof shell layer for longer or cooler events
Arm and leg protection from sun and scratchy vegetation
Warm hat and gloves in winter
Sunhat most days
Change of socks for longer events
Although you intend to keep moving to keep warm, ensure you take sufficient clothing to keep you warm at the coldest time of day if you end up being forced to remain stationary for an extended period (overnight?).
Footwear
This is very much a matter of personal preference. Everything works for the right person, from Dunlop Volleys through trail running shoes to low or high cut bushwalking boots.
Do you already have footwear that will do? Try an event and see how you go. Look at what others are wearing before you replace footwear.
Do you need ankle support? Consider more supportive boots.
Ankle strapping technique
Lightweight joggers are not water resistant (prolonged immersion makes the skin on your feet soft and vulnerable to blisters), let dirt and grass seeds through the mesh uppers, and often do not have a good slip resistant sole for wet conditions.
Shoes with stiff soles protect your feet more on rocky ground
Properly break in new footwear before the event
Good, well-fitting socks are as important as your footwear. Choose wool or synthetics that dry quickly
Navigation
On-course navigation aids are your map and compass only. Your compass should be a baseplate compass like this: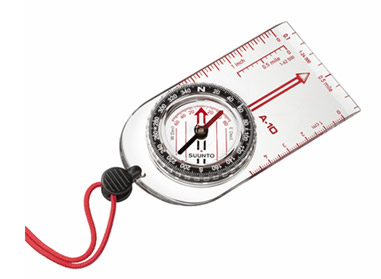 Make sure you are familiar with using your compass. If you have an old one in the drawer, check that it's working properly:
Red floating needle points north,
the bezel rotates
the needle settles quickly
you can read the engraved markings
it has a wrist chord
Technological aides such as GPS, altimeter and 'smart watches with these instruments built in are NOT allowed to be used in Rogaining events. This is a strong tradition in the sport and not only keeps it more affordable, but sets all competitors on a level playing field.
Comprehensive VRA Rogaining manual here...
SARA Tips and Tricks here...
ACTRA Navigation and Rogaining Skills Notes here...
Other On-Course Equipment
Comfortable rogaining needs to balance the conflicts of taking all the essentials but still travelling light
Backpack
A comfortable backpack is important. The right size is important. Too small and you won't fit in extra clothes or wet weather gear for longer, winter events in uncertain weather. But you're never going to need camping gear on a Rogaine either. Stout, abrasion resistant and waterproof fabric, with a waist loop and allowance for a water bladder are all good design features.
Start with something you have or can borrow, and see what other competitors are using before you start spending serious dollars. A good backpack should last you for many years.
Water Supply
You should always be able to carry at least 2 litres of water. On some longer events the course setter may advise that you need to carry more.
Bladders are popular because they allow you to sip regularly whilst on the move, and to do it one handed. Regular consumption of fluids is essential for preventing dehydration. If you wait until you're thirsty then it's probably too late. In longer events, once you get dehydrated it is extremely difficult to properly rehydrate.
Drinking bottles are also useful. Work out a way to access them easily without the risk of them dropping out of your backpack unnoticed.
Food
The right food for extended strenuous exertion is full of personal preferences and few absolute rules. Some people rehydrate just with water, others use electrolyte and carb drink powders, which also provide a substantial portion of their energy needs.
Food needs to be palatable (not too dry or hard to swallow), energy dense and easy to carry and consume. Generally high sugar (high glycemic index) foods are only consumed in small quantities and foods that are a 'slow burn' preferred. The aim of sports nutrition is to make adequate levels of energy continuously available to the body without spikes of high or low blood sugar levels.
And remember, after all events 6 hours or longer, there is a meal provided, so that uneaten food you've carried will just stay in your bag.
A easy recipe for homemade Protein Bars (Sarina's Slice), that also freezes well is here...
Torch
A torch is essential for night-time navigation and is also a good safety precaution for winter 6 hour events in bushland that are scheduled to finish close to sunset.
Head torches are the outstanding choice for Rogainers as they allow both hands to be free for map and compass work, follow the eyes wherever they move, and are now light and strong.
A good head torch will have a strong (or very strong) central beam to pick up controls at distance, as well as lower power settings for map reading. Battery life is an important consideration.
As with all equipment, torches can fail. Experienced Rogainers on night Rogains will invariable have 2 torches with spare batteries for both, that will last all night on full power.
First Aid
A small compulsory First Aid kit is required to be carried by each competitor on all rogaines. It consists of:
compression bandage for snake bites and
plastic foil emergency blanket.
Other Stuff
In addition, you could add:
Adhesive wound dressings (Bandaids, plasters, blister control)
Personal medications
Analgesics (paracetemol, ibuprophen)
Suntan lotion
Toilet paper
Reading glasses (particularly if you need them to read a map at night)
Camping Before and After the Event
Events that are 2 or more hours drive away can be more enjoyable if you arrive the night before. Not only do you avoid being sleep deprived and tired before you start, from a very early start and a long drive, but you will have more time and be in a better frame of mind for your route planning. Arriving late and not giving your team adequate time for planning is a false economy in Rogaining.
Fatigue is a killer on Australian roads. Plan your car travel so that you are refreshed and alert when you drive, and plan to share the driving. After strenuous (and particularly longer events), rest before you drive. Stay the night and drive home the next day.
If you are planning to camp, you should bring:
Tent
Sleeping bag
Sleeping mat
Chair
Table
Cooking stove and billies
Plate, cup and cutlery (you'll be bringing these for the meal after the event)
Your dinner, breakfast and food before the event starts
On-course food (see above)
Water (10-20L).
Although water is usually sourced by the event organisers, it may be in short supply and needs to keep water drops filled and catering supplied. Be self-sufficient and bring your own. In NSW generally you will not be able to rely on obtaining enough good drinking water from creeks and streams on the course.
---
---