The Warwick Marsden Award
---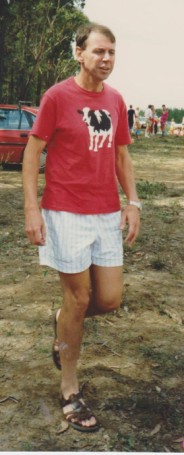 Warwick Marsden was a champion of rogaining in NSW during the 1980s and 1990s. He was an early competitor in rogaines, participating in one of the earliest international events. His friendliness in inviting people to try Rogaining brought many people to the sport. His expertise for organising events and in the management of the NSWRA committee greatly improved our sport. In particular, Warwick was responsible for building the annual Paddy Pallin 6 Hour event from a low key event into an event that typically attracts over 600 competitors. He was quietly spoken and a happy face around many hash houses both as an organiser and as a participant. Sadly Warwick died from cancer in July 1995.
The Warwick Marsden Award celebrates his contributions to the sport. It is awarded to volunteers of any skill level for their contribution to the sport in NSW. The Warwick Marsden Award is given by the NSWRA to members in recognition of their voluntary contribution to the sport.
Past recipients are:
1997 Trevor Gollan
1998 Graeme and Vicki Cooper
1999 Bert and Dianne van Netten
2000 Julian Ledger
2001 Stephen Castle
2002 Tony Maloney (photo of presentation)
2003 Jennifer Borrell and John Keats
2006 Alan Mansfield
2007 Ian Dempsey
2011 Mike Hotchkis
2012 Bob Gilbert
2012 Michael Watts
2015 Gill Fowler
2016 Ted Woodley
2018 Mark von Huben
2019 Chris Stevenson
The Warwick Marsden Award is normally awarded at the Metrogaine each year. To make a nomination for the Warwick Marsden Award, please contact the committee.
---