Final Instructions are here... Notes for novices are here... Entries are now open here... We are taking entries until Friday 22nd March at Midnight See interim team list here...
Please note that we are trialling a new registration system. So if you note any gremlins or have any questions then please let the [email protected] know.
We are trialling this registration system because:
It's cheaper for you
It's hosted by QLD rogaining and is the closet things we have to a common system
You can save team members and recall them for future events
It's secure and easy to use
If you need to change your entry you do that here...
---
Description
The event starts at 10:00am. Maps available from 8am
The Blue Mountains is one of the most iconic pieces of bushland in the world, so what better way to explore it than with an added navigational challenge? While the Upper Blue Mountains sports the famous and spectacular Three Sisters and Govett's Leap, the Lower Blue Mountains has its own share of unique attractions.
The course, based in Springwood and stretching between Faulconbridge and Blaxland, will contain everything the Blue Mountains is famous for – rainforest, lookouts, caves and other interesting rock formations, and waterfalls (indeed, Springwood was named for the many water springs in the area). For teams that want to spend the bulk of their time in the bush, this course will not disappoint with its great variety of tracks and route options, but as is usual with urban-based events, a large amount of effort has gone into ensuring there will be some checkpoints in interesting parklands and urban areas so families can make a nice day out as well.
The network of tracks around Sassafras Gully will be one of the key features of the course and a few great lookouts will also be included for those teams that are prepared to climb the hard yards to them. The network around Birdwood Gully will be included as well as Cripple Creek reserve in Warrimoo, ensuring that a careful balancing of options will be required for optimizing your route. To give teams time to reach the outskirts of the course, we will allow the utilization of the trains (it is, after all, a METROgaine), so don't forget your Opal card!
The Hash House will be at Springwood Public School, about a 1km walk from the railway station (which we may organize lifts to and from if required) and just off the Great Western Highway. In addition to the category winner mugs, we will also have other spot prizes on offer for other activities, which will be described in due course.
So time to "spring" into action and get a team together!
---
Need a partner for this event? Try our Partner Finding Service .
Need a lift or like to have someone share the travel costs? Try our Carpooling Service.
For entry related matters please contact Anita Bickle at [email protected]
For enquiries about the course contact [email protected]
---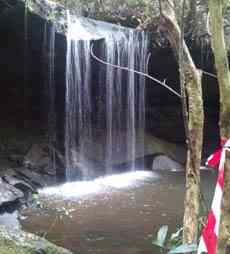 Who can enter?
Anyone can enter as part of a team of 2 to 5 people.
By entering this event you become a member of NSW Rogaining Association unless you are already a member of another state rogaining association. Your NSWRA membership will last for 12 months from the date of this event.
---
Competition Categories
This event offers the normal age/gender based categories plus a "Novice" and a "Family" category. See Competition Categories for more details.
---
Novices
Read the basics about doing your first rogaine here...
---
Entry Fees
| | |
| --- | --- |
| Full | $50 |
| Concession | $35 |
| Child < 14 years | Free |
The Concession rate applies for ..
Anyone between 14 and 22 years of age
Full time students
Unemployed
Pensioners
Our refund policy is here.