Final results (no change) are here...
I am yet to get a fix for the result display. If you want to check your raw tag data it is here.... To find your team results just search (CTRL-F) for your name.
For those of you who, like me, study the tag results on the web site you will notice a lot of "HH's" where there should be tags. This is a bug in the program that publishes the results, not in the one that calculates them. So the totals should tally correctly. I am trying to fix this. If you see any errors in your score then please let me know at webmaster@nswrogaining.org
Lost and Found
If you have lost one of the items below then please send an email to admin@nswrogaining.org and we will attempt to reconnect you with your possessions.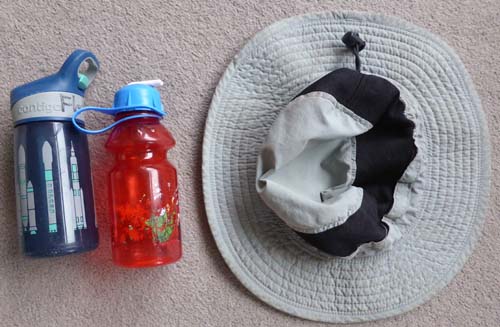 Final Instructions are here... Notes for novices are here... See interim team list here...

---

Description
The event starts at 10:00am. Maps available from 8am
The Blue Mountains is one of the most iconic pieces of bushland in the world, so what better way to explore it than with an added navigational challenge? While the Upper Blue Mountains sports the famous and spectacular Three Sisters and Govett's Leap, the Lower Blue Mountains has its own share of unique attractions.
The course, based in Springwood and stretching between Faulconbridge and Blaxland, will contain everything the Blue Mountains is famous for – rainforest, lookouts, caves and other interesting rock formations, and waterfalls (indeed, Springwood was named for the many water springs in the area). For teams that want to spend the bulk of their time in the bush, this course will not disappoint with its great variety of tracks and route options, but as is usual with urban-based events, a large amount of effort has gone into ensuring there will be some checkpoints in interesting parklands and urban areas so families can make a nice day out as well.
The network of tracks around Sassafras Gully will be one of the key features of the course and a few great lookouts will also be included for those teams that are prepared to climb the hard yards to them. The network around Birdwood Gully will be included as well as Cripple Creek reserve in Warrimoo, ensuring that a careful balancing of options will be required for optimizing your route. To give teams time to reach the outskirts of the course, we will allow the utilization of the trains (it is, after all, a METROgaine), so don't forget your Opal card!
The Hash House will be at Springwood Public School, about a 1km walk from the railway station (which we may organize lifts to and from if required) and just off the Great Western Highway. In addition to the category winner mugs, we will also have other spot prizes on offer for other activities, which will be described in due course.
So time to "spring" into action and get a team together!
---
Need a partner for this event? Try our Partner Finding Service .
Need a lift or like to have someone share the travel costs? Try our Carpooling Service.
For entry related matters please contact Anita Bickle at admin@nswrogaining.org
For enquiries about the course contact publicity@nswrogaining.org
---