2015 "Wan-gi-gaine" - 6 Hr Socialgaine
22 November 2015
Set on the shores of beautiful Lake Macquarie.
The area has a lot of bush trails and some scenic cycle paths.
The map has pram friendly route choices, but you may prefer to bring a backpack or carrier so that you have more access to some of the nicest waterfront spots (and points).
Bring your swimmers for a swim after or during the event.
Entries are now closed.
See event web site for final results...
---
Position Vacant - NSWRA Event Administrator 2016
Anita Bickle and Belinda McLean have been fantastic event administrators in 2015. The event administrators reduce the workload of our volunteers at events. Sadly, we farewell Belinda, and wish her and her family all the best with their move to Melbourne.
This means NSWRA is looking for a 2nd event administrator for 2016. If you are interested in some part time work and keen to help out at Rogaining events please see the attached description of services.
Applications close Thursday 3rd December.
---
2016 "LaneCoveRivergaine2" - 6 Hr Metrogaine
Sat 27 February 2016
What better way to kick off the 2016 rogaining year than by entering the "LaneCoveRivergaine2" on Saturday 27 February 2016 (start @ 10am). This 6 Hour Metrogaine follows on from the highly successful "LaneCoveRivergaine1" in February 2015.
In 2015 we started from the source of the Lane Cove River in Pennant Hills and travelled as far as De Burghs Bridge at West Pymble. In 2016 we continue the journey down the river from De Burghs Bridge as far as Stringybark Creek in Lane Cove.
See event web site for details...
---
2015 Australasian Rogaining Championships
"A Cross-Country Caper"
10-11 October 2015
See event web site for interim results...
---
Want to enter the World Champs in 2016?
Well, you may well be able to. The event will be held right here in Central Australia! Richard Robinson has put together an information sheet for Australian and NZ rogainers who are keen to enter this event.
---
What is Rogaining?
Wondering what all this is about? Have a listen to Joel Mackay explaining it to Simon Marnie on 702 ABC Sydney's "Weekends".
---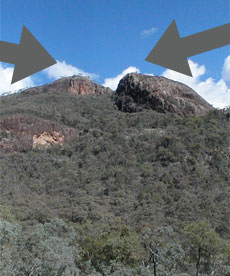 Which Mountain
Click image for full size photo
Hi, if you think you recognise this mountain then please be the first person to send the webmaster an email and your effort will be acknowledged.
Congratulations to Julian Ledger who has correctly identified last week's photo as Mt Yengo.
---
Emergency+
Rogainers with smart phones are encouraged to install the following app on their smart phones and carry them during events.
This Emergency+ app has been developed for Australia's Triple Zero Awareness Working Group. When activated, the app displays current GPS coordinates. This knowledge could be very useful in a variety of rescue and support situations. No mobile coverage is required to display GPS coordinates.
The app is available in the app stores for Android, Apple and Windows devices.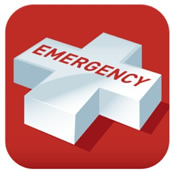 Triple Zero (000) is Australia's primary emergency service number and should be used if urgent emergency assistance is required from either police, fire, or ambulance services.
Australia also has two secondary emergency service numbers that only work with particular technologies:
112 is the GSM international standard emergency number which can only be dialled on a digital mobile phone (Some international model phones cannot dial "000").
106 is the text-based emergency number for people who are deaf, or who have a hearing or speech impairment. This service operates using a textphone (TTY) or a computer with modem access.
---
Get information on orienteering in NSW
See also ...
Orienteering Summer Series
These are mostly 45 minutes events on Wednesdays and Sundays. They are open to everyone and held in a wide range of locations.
See Summer Series Orienteering schedule here:
North, West and South.
---
BWRS remote first aid
If you are keen to get some first aid skills, with a focus on remote area first aid, then you should check out the courses offered by the Bushwalkers Wilderness Rescue Squad - they run these courses that are, by all accounts, great.
Remember too that if you have been a major volunteer at a NSWRA event then you can claim $100 towards the cost of a first-aid course - like this one - rather than getting a free event entry!