"The Boardwalk Bonanza"
3 hour Minigaine
Boronia Park
Sunday 30th March 2014
For this event there are two divisions, "Individual" and "Team". The rogaining rules are relaxed to allow individuals 18 years of age and over to enter without a partner. There are no categories in the Individual Division. The Team Division has the usual categories.
Instead of the usual mass start you may start any time between 1pm and 3pm.
Entries are now open. Read more ...
---
Metrogaine 6 hour
Sunday 9th February 2014
This year the "Metrogaine" took in the Berowra Valley Regional Park and surrounding suburbs.
Results and reports are now available.
---
2013 – A great year for Rogaining in New South Wales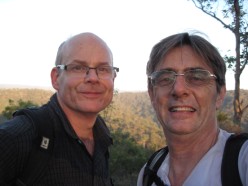 Julian Ledger reflects on the past year. He asks "Is rogaining in NSW too hard?".
What is your answer?
Right: Chris Stevenson and Julian Ledger at dawn control - NSW Championships.
---
Thanks to our past and present NSWRA committee members
That we're still going strong after 30 years of rogaining in NSW is due in no small part to the commitment of our present and past committee members. We've attached a list of these dedicated people and if we've inadvertently omitted someone, please let us know
---
14th World Rogaining Championships
Alice Springs - 23 & 24 July 2016
The Australian Rogaining Association has been awarded the right to host the 14th World Rogaining Championships in 2016 (14WRC2016).
Details of the ARA's proposal to host this event can be found here.
While this event provides a unique opportunity for local rogainers to compete in a WRC close to home and in (relatively) familiar terrain, entries will be limited by number and a complex set of rules.
Read about the entry criteria here.
---
Summer Series Orienteering
These 45 minute "mini-rogaines" run by the orienteers are held in the streets, parks and bushland areas of Sydney and Newcastle on weekday evenings. For more information go to their web sites ...
---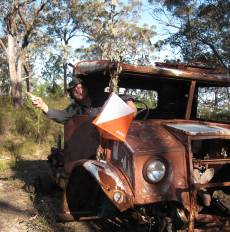 Chris Stevenson
The man made feature
NSW Championships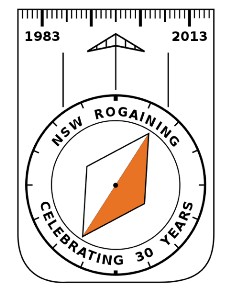 ---
New to Rogaining?
Would you like some information on ...
Equipment needed.
How to prepare.
What happens when you get there.
What happens on the course.
How to navigate.
Hiding away in our Books Section is a rather large PDF file published by the Victorians which answers these questions. It is well worth taking the time to download a copy.
---
BWRS remote first aid
If you are keen to get some first aid skills, with a focus on remote area first aid, then you should check out the courses offered by the Bushwalkers Wilderness Rescue Squad - they run these courses that are, by all accounts, great.
Remember too that if you have been a major volunteer at a NSWRA event then you can claim $100 towards the cost of a first-aid course - like this one - rather than getting a free event entry!