Dharug Dreamtime
6- and 12-hour Autumn Rogaine
2 May 2015
Put on your shoes, hat and gaiters and grab your compass for the first full "bush" event of 2015. And it's not far away either!
Entries are open *now*!
---
Want to enter the World Champs in 2016?
Well, you may well be able to. The event will be held right here in Central Australia! Richard Robinson has put together an information sheet for Australian and NZ rogainers who are keen to enter this event.
---
3 hour "Bell-birds" Minigaine
Sunday 22 March 2015
Results and photos are now available here.
This event had both individual and team entries, with a mass start at 12pm from Kincumber Public School.
---
Bush and Beach Orienteering Club
The Bush and Beach Orienteering Club, in Grafton NSW, are hosting two long distance score events this year:
23 May — Long Distance Score Event
26 July — Mountain Bike and Foot orienteering
12 September — Long Distance Score Event
Read more ... or visit the Bush and Beach website.
---
2015 Australasian Rogaining Championships
"A Cross-Country Caper"
10-11 October 2015
This event is being brought to you by NSWRA.
---
What is Rogaining?
Wondering what all this is about? Have a listen to Joel Mackay explaining it to Simon Marnie on 702 ABC Sydney's "Weekends".
---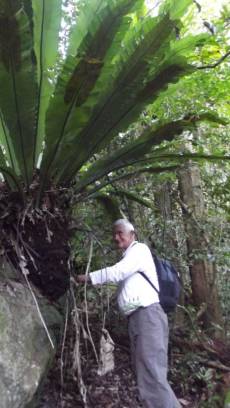 Course setting for Lake Macquarie rogaine.
---
Get information on orienteering in NSW
See also ...
These are mostly 45 minutes events on Wednesdays. They are open to everyone and held in a wide range of locations.
---
New to Rogaining?
Would you like some information on ...
Equipment needed.
How to prepare.
What happens when you get there.
What happens on the course.
How to navigate.
Hiding away in our Books Section is a rather large PDF file published by the Victorians which answers these questions. It is well worth taking the time to download a copy.
---
BWRS remote first aid
If you are keen to get some first aid skills, with a focus on remote area first aid, then you should check out the courses offered by the Bushwalkers Wilderness Rescue Squad - they run these courses that are, by all accounts, great.
Remember too that if you have been a major volunteer at a NSWRA event then you can claim $100 towards the cost of a first-aid course - like this one - rather than getting a free event entry!