2015 Lake Macquarie 6/12 Hour Rogaine
Saturday 1st Aug 2015
Lake Macquarie Rogaine 2015 also incorporating the State Championships. Join us on the 1st of August 2015 up in the Watagans taking in the Great North Walk.
Provisional Results Posted - Click here to go to event page....
---
2015 ACTRA 6 Hour Metrogaine
Sun 16th August 2015
'Belconnen and Beyond', a 6 hour metrogaine exploring Belconnen and some of the surrounding nature parks, will be held from 9:30am to 3:30pm on Sunday 16 August 2015.
The Hash House will be centrally located at the Lake Ginninderra Sea Scout Hall. There'll be plenty of urban controls to suit beginners, plus some more challenging controls in the nature parks for the keener participants. Solo entries will be allowed for this event.
---
ACTRA 8 and 24 hour championships
Go wild – go feral!
5-6 September 2015
The ACT 8 and 24 hour rogaining championships will be held about one hour south-east of Canberra at Wild Cattle Flat. Your team can go fully wild for 24 hours or just feral for 8 hours
The terrain varies from wide grassy flats to open forest with some challenging hills. The Hash House is centrally located and there is plenty of free camping courtesy of the local landowners. Easier navigation near the HH and some trickier controls for those venturing further out. Good practice for the Oz champs later in October.
Bring your marshmallows to toast on the fire! Rally the team and see you there for a wild weekend of feral fun.
---
2015 Australasian Rogaining Championships
"A Cross-Country Caper"
10-11 October 2015
This event is being brought to you by NSWRA.
---
Rogaining in the ACT
In addition to the ACTRA events listed above there is scheduled a Spring Event 6 Hour / 12 Hour - 31 Oct.
Please note that in your diary and let's support our ACT colleagues by winning as many of their events as we can and remember some of these ACT events are closer than the NSW ones.
---
Want to enter the World Champs in 2016?
Well, you may well be able to. The event will be held right here in Central Australia! Richard Robinson has put together an information sheet for Australian and NZ rogainers who are keen to enter this event.
---
Bush and Beach Orienteering Club
The Bush and Beach Orienteering Club, in Grafton NSW, are hosting two long distance score events this year:
23 May — Long Distance Score Event
26 July — Mountain Bike and Foot orienteering
12 September — Long Distance Score Event
Read more ... or visit the Bush and Beach website.
---
What is Rogaining?
Wondering what all this is about? Have a listen to Joel Mackay explaining it to Simon Marnie on 702 ABC Sydney's "Weekends".
---
Emergency+
Rogainers with smart phones are encouraged to install the following app on their smart phones and carry them during events.
This Emergency+ app has been developed for Australia's Triple Zero Awareness Working Group. When activated, the app displays current GPS coordinates. This knowledge could be very useful in a variety of rescue and support situations. No mobile coverage is required to display GPS coordinates.
The app is available in the app stores for Android, Apple and Windows devices.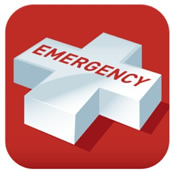 ---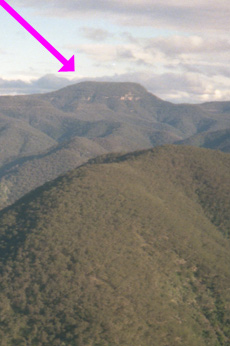 Which Mountain?
Click image for full size photo
If you think you know the mountain in the photo then be the first person to send an email to the Webmaster. Your efforts will be acknowledged on the web site.
Last week's photo was photo was correctly identified by Neil Hawthorne as Mt Jagungal.
---
Get information on orienteering in NSW
See also ...
These are mostly 45 minutes events on Wednesdays. They are open to everyone and held in a wide range of locations.
---
BWRS remote first aid
If you are keen to get some first aid skills, with a focus on remote area first aid, then you should check out the courses offered by the Bushwalkers Wilderness Rescue Squad - they run these courses that are, by all accounts, great.
Remember too that if you have been a major volunteer at a NSWRA event then you can claim $100 towards the cost of a first-aid course - like this one - rather than getting a free event entry!