"LaneCoverRivergaine3" - Metrogaine 6 hour
Saturday 25 February 2017
Preliminary results and photos are posted here...
In 2015 we started from the source of the Lane Cove River in Pennant Hills and travelled south to De Burghs Bridge at West Pymble. In 2016 we continued the journey down the river from De Burghs Bridge to Stringybark Creek in Lane Cove.
And in 2017 we complete the journey from Stringybark Creek to Fig Tree Bridge and Sydney Harbour.
Read more here...
---
Women's Nav Skills Weekend
A Women's Nav Skills Weekend will be conducted over 18 and 19 March 2017 in the Lithgow region.
Over the two days we will focus on foundation navigation skills and getting in some non-competitive practice. Whether you are looking to learn new skills for adventure racing or keen to sneak in some orienteering training ahead of the winter season, this weekend will offer something for you.
Our president, Gill Fowler, will be attending and speaking after dinner. Go along and learn how an elite rogainer does it.
Follow the link here... to find out more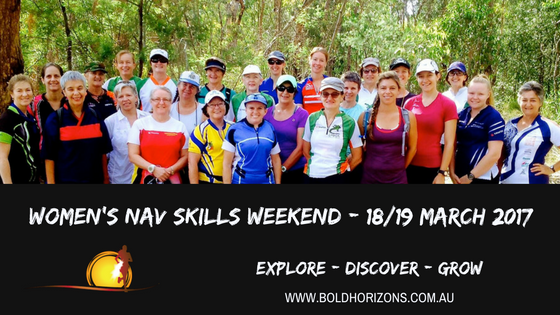 ---
2017 Australian Rogaining Championships
Entries for the 2017 Australian Rogaining Championships entries are now open. The event will be held 6th-7th May near Cooma. Former world rogaining category champions, Ron Simpson and Jean Douglass, have set a course of very high standard.
The area is ideal for rogaining: attractive open woodlands in spur and gully terrain, allowing fast and comfortable travel, with views towards the coast and back to the Snowy Mountains. You will see the remains of 19th century gold mining activity, and you may even hear or see the area's famed bark-eating koalas!
The ARC 2017 website is chock-full of information and photos, and this is where you enter. If you are a true-blue rogainer, you'll get along to the Ridgy Didge 2017 Australian Rogaining Championships!
There is even a Facebook page here...
The 2017 Intervarsity Rogaining Championships will be held in conjunction with the Australian Rogaining Championships.
To participate in an Australian Intervarsity Rogaining Championship, students must be enrolled at a tertiary education institution recognised by Australian University Sports.
Read all about the Australian Intervarsity Rogaining Championship on the ARC 2017 website.
---
ACT Rogaining
See Event Calendar
The event schedule has been updated with all of ACT events in 2017. Please have a look at the combined NSW and ACT schedule and get to as many events as you are able.
See event calendar for 2017 NSW and ACT events...
---
---
Rogaining in the News
Click here...to read an article about rogaining published 27th May 2016, in the lifestyle section of the Australian Financial Review.

---
---
Orienteering NSW

Click here to be taken to the Orienteering NSW Homepage. Orienteering is a great way to hone your rogaining skills.
---
Junction of the Colo and Wollangambie Rivers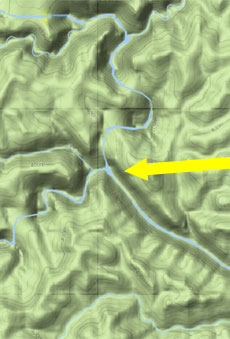 Click image for full size view
Congratulations to Peter Hopper who recognised this map fragment as the junction of the Colo and Wollangambie rivers. A place which is still on the Webmaster's to do list.
Clew's cave is an interesting features near this junction and you can read more about it here... and here...
Our last puzzle was solved by Gill Fowler who recognised Mt Yengo. You can read more about mount Yengo here... and learn more about the BWRS and Navshield here...
Emergency+
Rogainers with smart phones are encouraged to install the following app on their smart phones and carry them during events.
This Emergency+ app has been developed for Australia's Triple Zero Awareness Working Group. When activated, the app displays current GPS coordinates. This knowledge could be very useful in a variety of rescue and support situations. No mobile coverage is required to display GPS coordinates.
The app is available in the app stores for Android, Apple and Windows devices.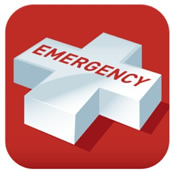 Triple Zero (000) is Australia's primary emergency service number and should be used if urgent emergency assistance is required from either police, fire, or ambulance services.
Australia also has two secondary emergency service numbers that only work with particular technologies:
112 is the GSM international standard emergency number which can only be dialled on a digital mobile phone (Some international model phones cannot dial "000").
106 is the text-based emergency number for people who are deaf, or who have a hearing or speech impairment. This service operates using a textphone (TTY) or a computer with modem access.
---
BWRS remote first aid
If you are keen to get some first aid skills, with a focus on remote area first aid, then you should check out the courses offered by the Bushwalkers Wilderness Rescue Squad - they run these courses that are, by all accounts, great.
Remember too that if you have been a major volunteer at a NSWRA event then you can claim $100 towards the cost of a first-aid course - like this one - rather than getting a free event entry!