2019 Nyctophobia Buster 2.5&5 hr Night Event
Sat 6th July 2019
Hornsby Heights
This once off event is open to everyone in a team of 2-5 participants and we are particularly encouraging beginners of night navigation.
For those of you who are not quite ready to embrace the scary and lonely bush at night there will be lots of controls available in suburbia and within easy striking distance of the street lamps.
For those of you ready to embrace night navigation we can guarantee spiders, hidden snakes, scary animals, unexplained noises and if you are really lucky you will be lost and frightened.
---
2019 Paddy Pallin 6hr
Sun 16th Jun 2019
Colo
Final instructions here...
Entries are closed.
A pristine river, spectacular views, a world heritage national park, history, wildlife and free camping await you. There may even be a hot shower.
The Hash House (start & finish) will be at Upper Colo – only about an hour and a half drive from Sydney CBD –and less than three hours from either Newcastle or Wollongong.
Free camping is available on Saturday night and 1st Waitara Scouts will provide dinner for an additional fee.
This is a six-hour event starting at 9am with maps available at 7am and finishing at 3pm. Following the rogaine, food and drinks will be provided by the Scouts, there will be presentation of perpetual trophies and prizes (including lucky door prizes) provided by the Paddy Pallin Organisation.
This will be the 56th Paddy Pallin Rogaine which was started by Paddy Pallin in 1964 and has been organised by NSW Rogaining Association since 1988. The key goal, which has applied since the first event, is to encourage people to enjoy the bush with minimal impact and to practise and improve their navigation skills.
---
2019 Series Point Score
See the series points score for 2019, after three event, here...
If you see any problems with the results or have queries then please contact [email protected]

Orienteering NSW

Click here to be taken to the Orienteering NSW Homepage. Orienteering is a great way to hone your rogaining skills.
---
Emergency+
Rogainers with smart phones are encouraged to install the following app on their smart phones and carry them during events.
This Emergency+ app has been developed for Australia's Triple Zero Awareness Working Group. When activated, the app displays current GPS coordinates. This knowledge could be very useful in a variety of rescue and support situations. No mobile coverage is required to display GPS coordinates.
The app is available in the app stores for Android, Apple and Windows devices.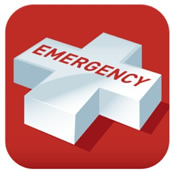 Triple Zero (000) is Australia's primary emergency service number and should be used if urgent emergency assistance is required from either police, fire, or ambulance services.
Australia also has two secondary emergency service numbers that only work with particular technologies:
112 is the GSM international standard emergency number which can only be dialled on a digital mobile phone (Some international model phones cannot dial "000").
106 is the text-based emergency number for people who are deaf, or who have a hearing or speech impairment. This service operates using a textphone (TTY) or a computer with modem access.
---