LaneCoveRivergaine"
6 & 12 hour events
28 February 2015
The 2015 "metrogaine" will depart from the usual format by offering the choice of two durations, a 6 hour and a 12 hour event. Both will start at 11am on Saturday 28th February.
The course encompasses the Lane Cove National Park and river catchment, from the river's source in Pennant Hills to the De Burghs Bridge at Killara. The base map uses the highly detailed STEP map. John Martyn, the map's cartographer and noted naturalist, has been assisting Ted Woodley set a course that encompasses the most scenic and interesting features of the catchment. Come and experience the most amazing waterways, geology, flora and fauna right within Sydney's heart.
Entries are now open for this rogaine.
read more and enter on-line or by post ...
---
Vale George Collins
With sadness we record the passing of George Collins. George was an active rogainer in the late 80s and 90s, and was on the NSWRA committee for a few years.
George grew up in Sutherland Shire and lived there most of his life. He studied at Sydney University and after a few years in Switzerland returned to work at Lucas Height Research Labs (ANSTO) for much of his career. He became an internationally renowned scientist and latterly moved into research management, most recently as deputy vice-chancellor at Swinburne University in Melbourne. He was home in Sutherland shire on November 14th when he died suddenly and unexpectedly.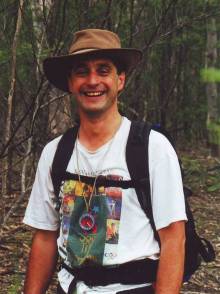 George was a man of great energy, enthusiasm and warmth. His life revolved around family, church and commitment to his work. Sport and music were among his recreations, and rogaining had a special place for him. He inspired many people to give rogaining a go, not least a small group of colleagues from ANSTO who remain keen rogainers.
He served on the NSWRA committee in the early 90s as newsletter editor and had major roles in organising and course setting at several rogaines, including Evans Crown (1990), Sutherland Shire Metrogaine (1996), Cookbundoon (1998), Bungonia (NSW Champs 2001), and the Socialgaines in 1994, 1998 and 2003.
With his brother, George won the 1986 Australian Champs at his very first rogaine. Admittedly they won the Novice category, but George never let that minor detail spoil a good story. He also won the 12-hour Open event at Wambo in 1991.
Unfortunately his busy work life kept him away from rogaines in recent years, but he did team up with Trevor Gollan and Peter Watterson in this year's NSW Champs at Newnes State Forest, and was quite impressed by the navlight system.
Our thoughts are with George's family, his wife Evelyn and their three children Christopher, Elodie and Alexi.
---
Socialgaine 6 hour rogaine
16 November 2014
Provisional results are now available.
The 6 hour Socialgaine was held on Sunday 16 November between 9:30am - 3:30pm. The start was at the Sydney Academy of Sport and Recreation on the Wakehurst Parkway beside Narrabeen Lakes. The course included bushland trails, parks and streets, and even a beach or two.
---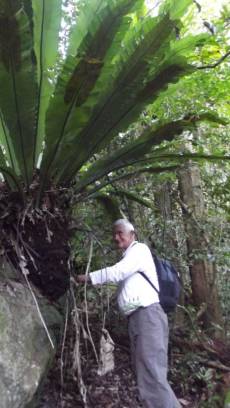 Course setting for Lake Macquarie rogaine.
---
Get information on orienteering in NSW
See also ...
These are mostly 45 minutes events on Wednesdays. They are open to everyone and held in a wide range of locations.
---
New to Rogaining?
Would you like some information on ...
Equipment needed.
How to prepare.
What happens when you get there.
What happens on the course.
How to navigate.
Hiding away in our Books Section is a rather large PDF file published by the Victorians which answers these questions. It is well worth taking the time to download a copy.
---
BWRS remote first aid
If you are keen to get some first aid skills, with a focus on remote area first aid, then you should check out the courses offered by the Bushwalkers Wilderness Rescue Squad - they run these courses that are, by all accounts, great.
Remember too that if you have been a major volunteer at a NSWRA event then you can claim $100 towards the cost of a first-aid course - like this one - rather than getting a free event entry!