Gill Fowler (El Presidente) wins 2015 Warwick Marsden Award
The NSW Rogaining Organising committee has decided, via a a round of secret communiques, to award the 2015 Warwick Marsden award to Gill Fowler.
The award was presented to Gill at the Volunteers BBQ held 31st Jan 2016.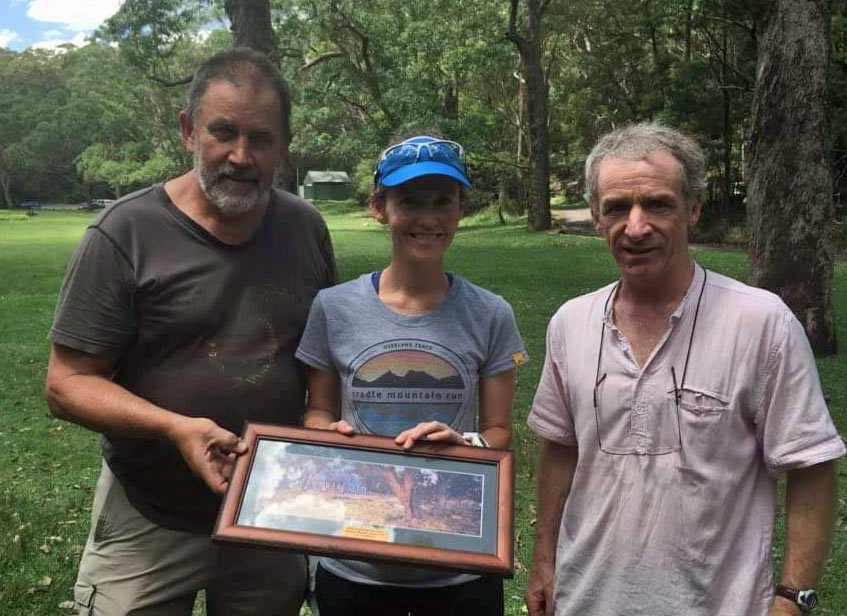 Gill exemplifies all that was intended to be celebrated and acknowledged by the Warwick Marsden Award. She is a contributor as an athlete and as a volunteer and does both in a relaxed and easy manner.
In addition Gill:
Ran under her direction, a highly successful Aust Champs in 2015.
Initiated the successful minigaine series
Has done an excellent job as President managing the Committee, filling in all the gaps and keeping the ship afloat!
Read more about the Warwick Marsden award here....
---
2016 "LaneCoveRivergaine2" - 6 Hr Metrogaine
Sat 27 February 2016 - Entries are now open.
What better way to kick off the 2016 rogaining year than by entering the "LaneCoveRivergaine2" on Saturday 27 February 2016 (start @ 10am). This 6 Hour Metrogaine follows on from the highly successful "LaneCoveRivergaine1" in February 2015.
In 2015 we started from the source of the Lane Cove River in Pennant Hills and travelled as far as De Burghs Bridge at West Pymble. In 2016 we continue the journey down the river from De Burghs Bridge as far as Stringybark Creek in Lane Cove.
See event web to site to enter and get more information...
---
ACT Rogaining
See Event Calendar
The event schedule has been updated with all of this year's ACT events. Please have a look at the combined NSW and ACT schedule and get to as many events as you are able.
In 2015, NSW competitors were under represented on the ACT leader boards. Let 2016 be the year that NSW competitors dominate the ACT leaders boards.
See event calendar for 2016 NSW and ACT events...
---
NSWRA Event Administrator 2016
Congratulations to Vivien de Remy de Courcelles who joins Anita Bickle as an Event Administrator for NSW Rogaining. Vivien and his wife Emanuelle are active rogainers and also volunteer at events. They are also members of BWRS and Sydney Bushwalkers.
---
Want to enter the World Champs in 2016?
Well, you may well be able to. The event will be held right here in Central Australia! Richard Robinson has put together an information sheet for Australian and NZ rogainers who are keen to enter this event.
---
What is Rogaining?
Wondering what all this is about? Have a listen to Joel Mackay explaining it to Simon Marnie on 702 ABC Sydney's "Weekends".
---
Get information on orienteering in NSW
See also ...
Orienteering Summer Series
These are mostly 45 minutes events on Wednesdays and Sundays. They are open to everyone and held in a wide range of locations.
See Summer Series Orienteering schedule here:
North, West and South.
---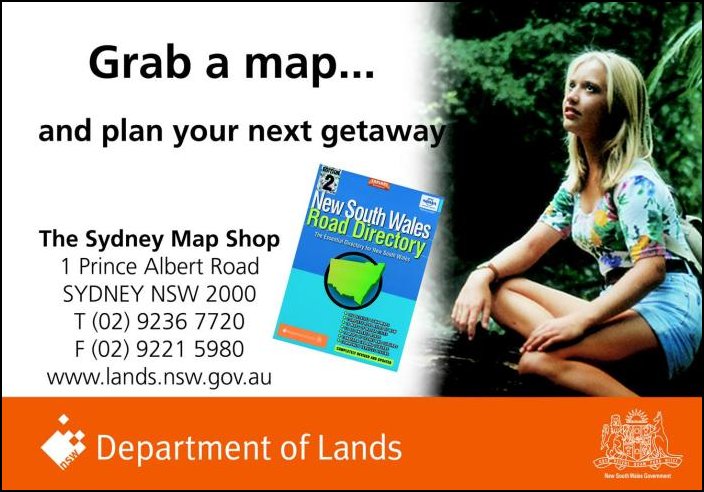 ---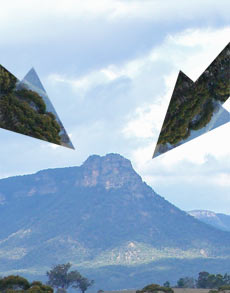 Which Mountain?
Click image for full size photo
Which mountain is this? If you think you know, then be the first to send the webmaster an email and I will acknowledge your efforts on the web site.
Congratulations to Steve O'Connor who has correctly identified the mountain in the last week's photo as Mount Kembla.
Mount Kembla has an elevation of 534 metres and the name "Kembla" is derived from an Aboriginal word for "plenty of game".
---
Emergency+
Rogainers with smart phones are encouraged to install the following app on their smart phones and carry them during events.
This Emergency+ app has been developed for Australia's Triple Zero Awareness Working Group. When activated, the app displays current GPS coordinates. This knowledge could be very useful in a variety of rescue and support situations. No mobile coverage is required to display GPS coordinates.
The app is available in the app stores for Android, Apple and Windows devices.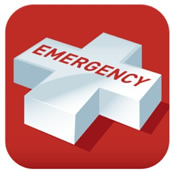 Triple Zero (000) is Australia's primary emergency service number and should be used if urgent emergency assistance is required from either police, fire, or ambulance services.
Australia also has two secondary emergency service numbers that only work with particular technologies:
112 is the GSM international standard emergency number which can only be dialled on a digital mobile phone (Some international model phones cannot dial "000").
106 is the text-based emergency number for people who are deaf, or who have a hearing or speech impairment. This service operates using a textphone (TTY) or a computer with modem access.
---
BWRS remote first aid
If you are keen to get some first aid skills, with a focus on remote area first aid, then you should check out the courses offered by the Bushwalkers Wilderness Rescue Squad - they run these courses that are, by all accounts, great.
Remember too that if you have been a major volunteer at a NSWRA event then you can claim $100 towards the cost of a first-aid course - like this one - rather than getting a free event entry!