3 hour "Bell-birds" Minigaine
Sunday 22 March 2015
Entries are now open for this event.
This event offers both individual and team entries, with a mass start at 12pm from Kincumber Public School.
Read more and enter on-line ....
---
6 & 12 hour LaneCoveRivergaine"
28 February 2015
The 2015 "metrogaine" departed from the usual format by having two durations, a 6 hour and a 12 hour event. Both started at 11am.
The course encompased the Lane Cove National Park and river catchment, from the river's source in Pennant Hills to the De Burghs Bridge at Killara.
---
What is Rogaining?
Wondering what all this is about? Have a listen to Joel Mackay explaining it to Simon Marnie on 702 ABC Sydney's "Weekends".
---
Notice of NSWRA Annual General Meeting 2015
22 March 2015
Our NSWRA AGM will be held at the end of the Minigaine (at Kincumber) on Sunday 22 March 2015, the AGM will start approximately 3:30pm. Our AGM is a very short and casual affair. It's an opportunity to say a BIG thank you to all the committee and volunteers for 2014 All committee positions for 2015 are open for election. We are seeking nominations for all positions and all nominations are very welcome!
We are looking for new committee members! Are you interested? Do you want to find out more about what's involved?? If so, please contact anyone on the current committee, or give Gill a call on 0413 905 551.
Nominations do require the support of two NSWRA members and the nominee's approval in writing. Please send you nominations to Dave Stanley, the secretary (secretary@nswrogaining.org) by Sunday 15 March. Current committee members are happy to support nominees, and additional nominations may be accepted at the meeting.
Download or print a Nominations Form.
---
2015 Australasian Rogaining Championships
"A Cross-Country Caper"
10-11 October 2015
This event is being brought to you by NSWRA.
---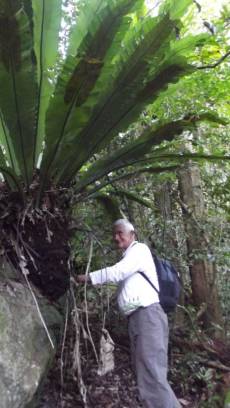 Course setting for Lake Macquarie rogaine.
---
Get information on orienteering in NSW
See also ...
These are mostly 45 minutes events on Wednesdays. They are open to everyone and held in a wide range of locations.
---
New to Rogaining?
Would you like some information on ...
Equipment needed.
How to prepare.
What happens when you get there.
What happens on the course.
How to navigate.
Hiding away in our Books Section is a rather large PDF file published by the Victorians which answers these questions. It is well worth taking the time to download a copy.
---
BWRS remote first aid
If you are keen to get some first aid skills, with a focus on remote area first aid, then you should check out the courses offered by the Bushwalkers Wilderness Rescue Squad - they run these courses that are, by all accounts, great.
Remember too that if you have been a major volunteer at a NSWRA event then you can claim $100 towards the cost of a first-aid course - like this one - rather than getting a free event entry!