2016 Autumngaine - 6/12 Hr Rogaine
Sat 21 May 2016
The 6/12 hour Autumngaine is in Tarlo River National Park about 30km north-east of Goulburn, starting at 12 noon on Saturday 21st May. It is inaccessible country due to private land surrounding the Park, hence you will probably never get here again, so don't miss out!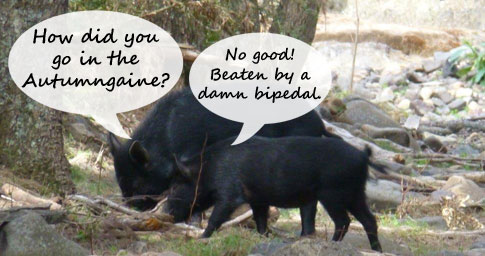 Q: Why did the pig help with the course setting?
A: Because it was boared.
We've negotiated to get into the wilder, northern section - an area that very few people get to explore. It's remote. There are sections where you can be 3-4km from the nearest road, something that doesn't happen often, anywhere, in NSW.
Entries are now open here...
---
2016 Paddy Pallin 6 Hr Rogaine
Sun 19 June 2016
This year the Paddy Pallin 6-hour rogaine event is centred at Catherine Hill Bay, South of Newcastle.
The area features magnificent coastal scenery, historical sites, rainforest and palm covered valleys, miners cottages and a pub. The terrain is varied with areas of open woodland, beaches and rock platforms, coastal wetlands and headland lookouts each with their navigational challenges.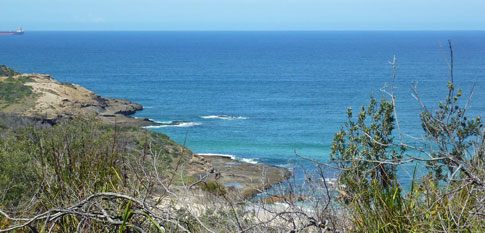 The event is only a 1 ½ hour easy drive up the M1 from Sydney.
Entries are now open here...
---
2016 "Wolligaine" - 3 Hr Minigaine
3 April 2016
Final results posted on event page.
---
Course setting workshop
A course setting workshop will be held in the 2 days following WRC 2016 in Alice Springs.
This will be similar in format to the successful workshop that David Baldwin held in Finland last year. Since the vast majority of competitors will be Australian, this is an opportunity for leading and aspiring course setters to share and consolidate skills.
---
ACT 24 hour Championships and 8 hour 30th April - 1st May
The ACTRA have their annual 24hr Championship event and an 8hr event coming up. Start noon Saturday 30 April, finish 8pm Sat or midday Sunday 1st May.
Entries are now open. Read about the event and enter here...
The Hash House will be south of Braidwood and the event takes in the headwaters of the Shoalhaven river.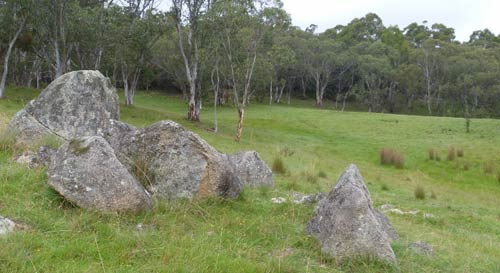 Those of you who can read a map will realise the the headwaters of the Shoalhaven are no where near the ACT, so let's turn out in force and assert our NSW supremacy.
---
2016 Intervarsity University Championships are fast approaching!
The 2016 Intervarsity Rogaining Championship will be held in conjunction with the ACTRA Rogaining Championships on the weekend of 30 April/1 May. The event location is the Shoalhaven River headwaters (2 hours from Canberra).
Each year the Nigel Aylott Memorial Sports Foundation (NAMSF) supports university students to enter the event. NAMSF was set up in memory of Nigel, a keen adventure racer and rogainer, to encourage engagement in these outdoor sports. Details of NAMSF subsidies will be available shortly. These subsidies will assist uni teams with travel and entry costs for the event!
The Intervarsity Rogaining Championship is open to all university students (full-time, part-time, undergraduate, or post-graduate). Students in a team must be from the same university.
If you are NSWRA member and a uni student, start talking to your uni friends about how much fun Rogaining is! Please send Gill a quick email on why your team should be selected for a subsidy by 1st April.
Alternatively, if you are a uni student, but unable to find a partner please email us, and let us know your Rogaining experience and university you attend as we can hopefully find you a teammate!
---
ACT Rogaining
See Event Calendar
The event schedule has been updated with all of this year's ACT events. Please have a look at the combined NSW and ACT schedule and get to as many events as you are able.
In 2015, NSW competitors were under represented on the ACT leader boards. Let 2016 be the year that NSW competitors dominate the ACT leaders boards.
See event calendar for 2016 NSW and ACT events...
---
Want to enter the World Champs in 2016?
Well, you may well be able to. The event will be held right here in Central Australia! Richard Robinson has put together an information sheet for Australian and NZ rogainers who are keen to enter this event.
---
---
Our Volunteers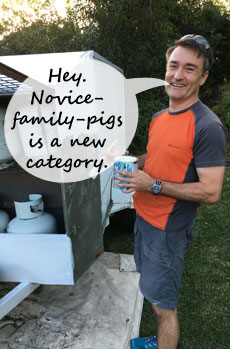 Mark von Huben hard at work, on Anzac day, painting our trailer
Our sport relies on volunteers, like Mark, who give their time to keep things running.
---
The Pilot
Click image for full size photo
This one was recognised by the Chris Stevenson. The Pilot is in the southern Snowy Mountains close the the Victorian border.
Chris Stevenson first ascended The Pilot in Apr 1993 as part of the YHA NSW 50 Year 'Climb 50 Peaks' celebrations.
This photo was sent in by Trevor Gollan, which proved to be quite a tough one.
---
Emergency+
Rogainers with smart phones are encouraged to install the following app on their smart phones and carry them during events.
This Emergency+ app has been developed for Australia's Triple Zero Awareness Working Group. When activated, the app displays current GPS coordinates. This knowledge could be very useful in a variety of rescue and support situations. No mobile coverage is required to display GPS coordinates.
The app is available in the app stores for Android, Apple and Windows devices.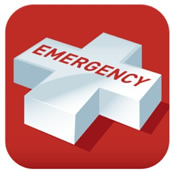 Triple Zero (000) is Australia's primary emergency service number and should be used if urgent emergency assistance is required from either police, fire, or ambulance services.
Australia also has two secondary emergency service numbers that only work with particular technologies:
112 is the GSM international standard emergency number which can only be dialled on a digital mobile phone (Some international model phones cannot dial "000").
106 is the text-based emergency number for people who are deaf, or who have a hearing or speech impairment. This service operates using a textphone (TTY) or a computer with modem access.
---
BWRS remote first aid
If you are keen to get some first aid skills, with a focus on remote area first aid, then you should check out the courses offered by the Bushwalkers Wilderness Rescue Squad - they run these courses that are, by all accounts, great.
Remember too that if you have been a major volunteer at a NSWRA event then you can claim $100 towards the cost of a first-aid course - like this one - rather than getting a free event entry!