Socialgaine 6 hour rogaine
16 November 2014
Our next event is the 6 hour Socialgaine on Sunday 16 November between 9:30am - 3:30pm. The start will be at the Sydney Academy of Sport and Recreation on the Wakehurst Parkway beside Narrabeen Lakes. It will include bushland trails, parks and streets, and maybe even a beach.

Entries are now open.
Read more and enter on-line or by post ....
---
Jeremy and Sue Challacombe
I regret having to report that our founding president, Jeremy Challacombe and his wife Sue have both died in a motor vehicle accident at South Grafton.

Jeremy and Sue contributed greatly to the early years of NSWRA and the Northern Tablelands Orienteering Club. They then spent many years working overseas. As this article in the NBN News makes clear, they were heavily involved in the community of Grafton where they lived since returning to Australia.
Graeme Cooper

David Rowlands writes ..

"Jeremy was from Bendigo originally as he competed with Peter Seale in early events. By 1980 Jeremy and Sue were stationed at University of New England, Armidale. Jeremy formed the NSW Rogaining Association in July 1983 with Bert Van Netten as Vice President. He was second president of the Australian Rogaining Association, taking over from Neil Phillips in November 1983."

Here is a piece from the VRA Newsletter, Feb 1984:

"A Spring 12 hour event was held recently near Armidale which used Jeremy's home at Tillbuster as the Hash House. Imagine, hot showers and home cooked meals for the competitors! 42 entrants competed in the event which was won by Terry Farrell and Ian Prosser. Jeremy had no trouble in farmer contacting; he sat at home one evening and telephoned eight of his neighbours, of which only three of these properties were required!"

Ian Dempsey writes ...

"Jeremy was enthusiastic and was able to rub that enthusiasm on to others. Both his enthusiasm and his practical work were integral to the establishment of the NSWRA in 1983 and his later presidency of the ARA was most helpful in expanding the influence of rogaining beyond Victoria. He and Sue were two of the most welcoming people I've met. They were both keen to assist with rogaining, if you needed a hand, and they were both happy to bring others into their lives. Their camaraderie will be sorely missed, not just by the early NSWRA community, but by the Armidale and Grafton communities that they were integrally involved with."
---
12th World Rogaining Championships
16-17 August 2014
South Dakota USA
Rochelle Duerden has given us a report of her experiences at this event. Her report, together with some photos and links to the results are on this page.
---
Spring 24 & 8 hour rogaine
Newnes State Forest
13-14 September 2014
This year's 24 hour "Spring" rogaine was held at Newnes State Forest, north of Lithgow. It incorporated the NSW Championship.
Results and photos are now available.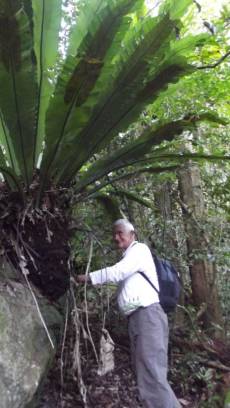 Course setting for Lake Macquarie rogaine.
---
Get information on orienteering in NSW
See also ...
These are mostly 45 minutes events on Wednesdays. They are open to everyone and held in a wide range of locations.
---
New to Rogaining?
Would you like some information on ...
Equipment needed.
How to prepare.
What happens when you get there.
What happens on the course.
How to navigate.
Hiding away in our Books Section is a rather large PDF file published by the Victorians which answers these questions. It is well worth taking the time to download a copy.
---
BWRS remote first aid
If you are keen to get some first aid skills, with a focus on remote area first aid, then you should check out the courses offered by the Bushwalkers Wilderness Rescue Squad - they run these courses that are, by all accounts, great.
Remember too that if you have been a major volunteer at a NSWRA event then you can claim $100 towards the cost of a first-aid course - like this one - rather than getting a free event entry!