RouteGadget results are here...
Final results are here...
If you see any problems with the results please let the Webmaster know.
Read my blog post about the event here...
Information package here...
See final team list here...
---
Description
The Paddy Pallin 6 hour Rogaine will explore the surrounds and history of Kitchener, a small mining village 5km south of Cessnock (in the Newcastle area). Starting from Poppethead Park, the area includes some of Werakata National Park and Conservation Areas. Suitable for beginners through to experienced rogainers, there is an extensive track network and much of the map is quite detailed as parts are used for Orienteering events.
There are hints of mining history across the map and some impressive ruins of the old chimney and winding house from the Aberdare South Colliery. Much older are the fossils which can be seen in the rocks in some areas. Other features include detailed erosion gullies, winding watercourses, rocky ridges and overhangs.
There is a lot of native wildlife in the area. You might see kangaroos and wallabies, emus, possibly a wombat and many kinds of birds from waterbirds to parrots. Yellow-tailed Black Cockatoos can be heard and seen throughout and you may be lucky enough to see endangered birds like the Swift Parrot or Regent Honeyeater.
The rogaine will start at 9:30am and finish at 3:30pm with tasty food afterwards by the Waitara Scouts. Camping will be available on Saturday night at Kitchener Public School (2 blocks from the start location at Poppethead Park) for a $5 donation per campsite which will go to the school.
For more info email samantha.howe@gmail.com
---
Need a partner for this event? Try our Partner Finding Service .
Need a lift or like to have someone share the travel costs? Try our Carpooling Service.
For more information about this event please contact the Admin team... email: admin@nswrogaining.org

---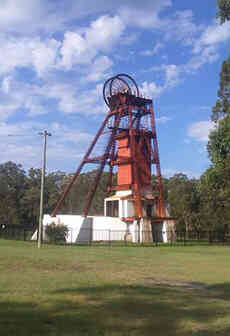 Poppet Head
Who can enter?
Anyone can enter as part of a team of 2 to 5 people.
By entering this event you become a member of NSW Rogaining Association unless you are already a member of another state rogaining association. Your NSWRA membership will last for 12 months from the date of this event.
---
Competition Categories
This event offers the normal age/gender based categories plus a "Novice" and a "Family" category. See Competition Categories for more details.
---
Novices
Read the basics about doing your first rogaine here...
---
Entry Fees
| | |
| --- | --- |
| Full | $60 |
| Concession | $42 |
| Child < 14 years | Free |
The Concession rate applies for ..
Anyone between 14 and 22 years of age
Full time students
Unemployed
Pensioners
Our refund policy is here.