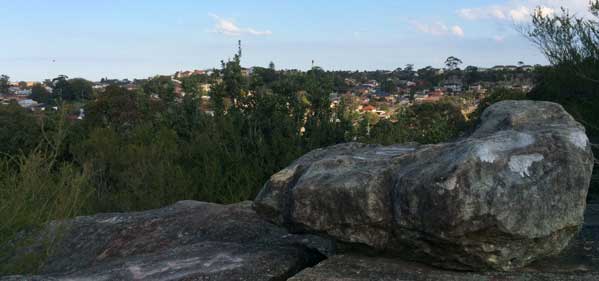 Final results are here...
If you see any mistakes please contact Vivien de Remy de Courcelles admin@nswrogaining.org

Google Earth file here...
On the results page you will see a link to Google Earth. When you click on this link (or the one above) it will download a file called "event.kml". If you open this file with Google Earth you can see a picture of routes taken by each team, similar to the one below which was the overall winner, Tristan White's route.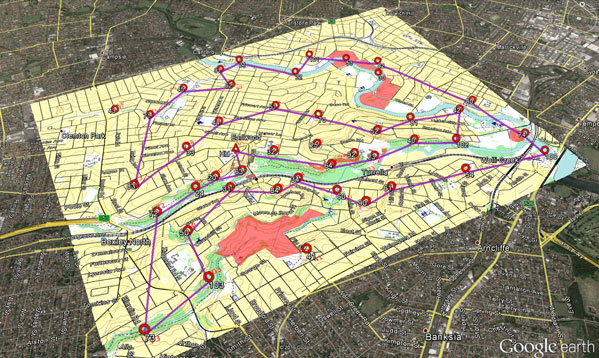 Description:
Come explore the largest remaining bushland in Sydney's Inner West, discover the four creeks shaping the area, be surprised by the views over the city and beyond!
This event is easily accessible by public transport and will be an ideal way to spend a Sunday out with family and friends of all ages. A perfect introduction to rogaining, the course doesn't require any specific equipment or high level of fitness, and features many playgrounds, cafes and shops. However, the most competitive rogainers/orienteerers around will also find some nice challenges if tackling the complete course.
There will be a mass start at 12pm on Sunday 3 April and, as is now tradition with the shorter city based events, solo entries are permitted.
The Hash House (start and end of course) will be at Earlwood Public School, Homer St, Earlwood. Access is best from Bardwell Park station (airport line) or buses 423 or 492. There is limited parking on the car park behind the Earlwood Senior Citizens Centre at the top of Hartill-Law Ave.
---
Need a partner for this event? Try our Partner Finding Service .
Need a lift or like to have someone share the travel costs? Try our Carpooling Service
---
For general information about this event, contact ...
Ronnie Taib
email: wolligaine@outlook.com

For entry or results related matters contact ...
Vivien de Remy de Courcelles
email: admin@nswrogaining.org

---