Click here... to see final results.
If you think your score is not right, please send an email to webmaster@nswrogaining.org
Click here... to see the photos Ted Woodley took during this event.
Click here... to read or write a blog post.
Click here... to use route gadget.
A big thank you to Russell Rigby for assistance in getting RouteGadget working and to Garingal Orienteers for letting us use their server.
You can upload your route to RouteGadget and compare it to others, but please reduce the file if you, like me, had the GPS interval set to 1 sec. If you do not know how to do this then send the GPX file to webmaster@nswrogaining.org and I will do it for you.
Lost Property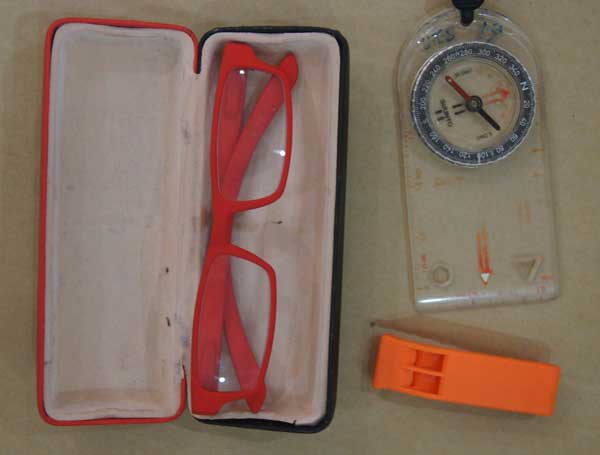 If this is your lost property and you want it back, then please send an email to webmaster@nswrogaining.org and I will arrnge to get it back to you.
The compass has "UTS 19" written on it.
RouteGadget
If you are not familiar with RouteGadget give it a go. RouteGadget will allow you to not only compare your route against that of your arch rivals, but also by using the animation feature, see how each team progressed in real time.
Google Earth
On the results page you will see a link to Google Earth. When you click on this link it will download a file called "event.kml". If you open this file with Google Earth then you can see a picture of routes taken by each team, similar to the one below which was the Webmaster's route.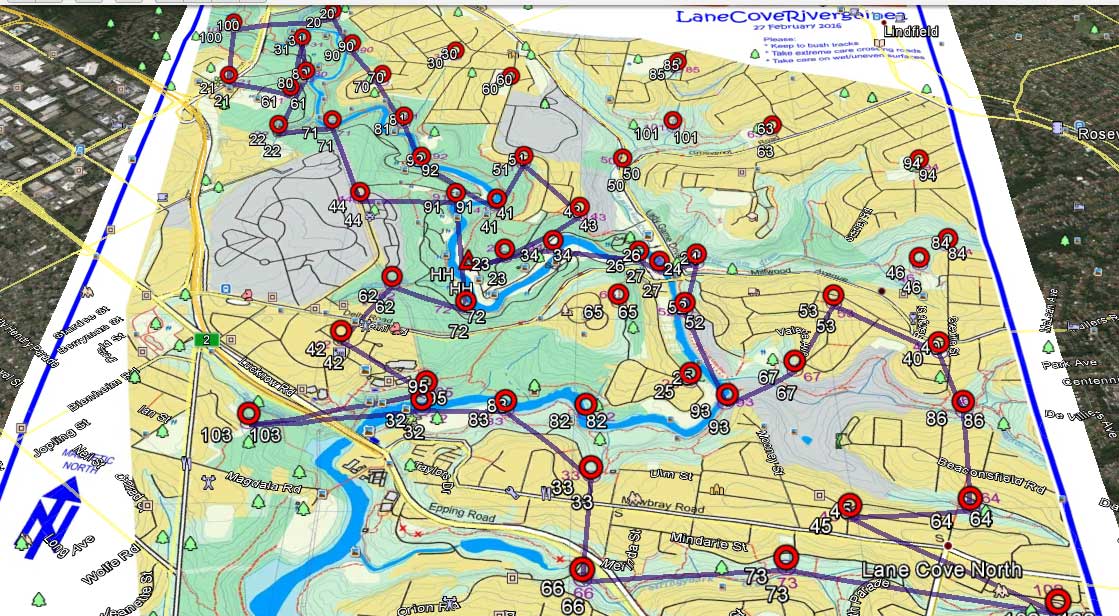 Event Description
What better way to kick off the 2016 rogaining year than by entering the "LaneCoveRivergaine2" on Saturday 27 February 2016 (start @ 10am). This 6 Hour Metrogaine follows on from the highly successful "LaneCoveRivergaine1" in February 2015.
In 2015 we started from the source of the Lane Cove River in Pennant Hills and travelled as far as De Burghs Bridge at West Pymble. In 2016 we continue the journey down the river from De Burghs Bridge as far as Stringybark Creek in Lane Cove.
Again we will be using the highly detailed STEP map and again John Martyn, the map's cartographer and noted naturalist, has assisted Ted Woodley set a course that encompasses the most scenic and interesting features of the river catchment.
If you want to read up about the Lane Cove River Catchment get a copy of the "Field Guide to the Bushland of the Lane Cove Valley" by Dr John Martyn which is $20 (+$10 p&p). Also you can purchase a copy of John's Lane Cove Valley map, on which the rogaine has been based for $5 (no postage applies). Both documents are available from www.step.org.au (STEP is a community-based environmental organisation with over 400 members from Ku-ring-gai, Hornsby and surrounding suburbs of northern Sydney. Its primary aim is to preserve all natural bushland within the area from alienation and degradation.)
The Hash House (start & finish) will be at Haynes Flat, Max Allen Drive, in Lane Cove National Park. Entry is from Lady Game Drive.
Parking in the National Park is limited (and costs $8 per vehicle), so please car pool or take public transport - the #545/550 bus from North Ryde Station to Chatswood Railway Station goes past the Park's Main Entrance off Delhi Road and departs every 20 minutes.
Travellers who wish to stay overnight should consider camping or hiring a cabin at the Lane Cove River Tourist Park, operated by the NPWS, which is adjacent to the National Park
---
A Bit of Rogaining History
The last time a metrogaine was held in the Upper Lane Cove Valley was 21 years ago. To put this in context, Ebay started 4 months after this event (August) and Paul Keating was our Prime Minister. Julian Ledger was the course setter and he set a 100pt control close to his home. You can see the old map here....
Many of the people who competed in that event are still familiar names in rogaining. You can see the results and commentary here.... The Webmaster (who will be competing again this year) and his wife finished 21st overall and 7th in the mixed.
---
The 1995 Metrogaine - Julian Ledger
The Lane Cove River Metrogaine coming up on February 27th is a reminder of the first rogaine in the area 21 years ago. I had a lot of fun setting it with infant daughter - hence the number of playgrounds en route and gumnut babies illustrating the map. Our son was born a few days before the event and his Mum brought him to join us in the afternoon at the Hash House which was at Blackman Park in West Lane Cove. That's downstream from the event this year. The map was the standard 1:25,000 topographical with plenty of tracks added. The event just fitted onto a single A4 sheet. Control circles on the map were hand marked - at least an upgrade on just getting the map references a few years earlier.
It was busy for the Admin with 115 teams. In those days everything was manually done - envelopes, stamps, control cards and scores to be added. All controls were clues which was good fun but inevitably lead to controversies. My attitude was to be lenient and award scores if a team had been to the right place but for some reason had trouble with the clue.
What is interesting is that quite a few names on the leader board back in 1995 remain active in rogaining and orienteering. 27th February may be a 21st reunion for the rogainers of '95. If you see a name on the list who you've not seen for a while please give them a call and invite them along.
---
Need a partner for this event? Try our Partner Finding Service .
Need a lift or like to have someone share the travel costs? Try our Carpooling Service
---
For general information about this event, contact ...
Ted Woodley
email: ted@woodley.net.au
0419 663 539
For entry or results related matters contact ...
Anita Bickle
email: admin@nswrogaining.org
0434 369 493
---