Updated at 11:45am on Friday 12 March 2010.
These are now separated into the "Individual" and "Team" divisions.
---
Thoughts from the organizers
We were quite excited about trying out this 3-h, rolling-start format for an event. It has been used successfully in other states, and it seemed like a nice cross-over between the Summer Series 45-minute orienteering events and the usual 6-h or longer rogaines.
Looking back on the event, I think it was overall a success. 250 people entered, and generally seemed to have a good time! The rolling start allowed people to still attend Saturday sports with their kids, and the short format seemed to make it more accessible for first-time entrants. We will definitely be holding more of these events - you can count on it! Here are some thoughts that address some of the comments made on the blog:
* The rolling start does reduce the social element that many people associate with a rogaine. A mass start isn't really practical in an urban area where there are only a relatively limited number of routes that people can take. We might address this by reducing the start-time window to say 3 hours instead, and definitely having food at the end. We were planning food for this event (which is why the entry was $25), but unfortunately our food providers pulled out very close to the day. Apologies to those left holding an empty bowl at the end of their day!
* We will definitely have a score board up at the event in future so that people can see scores as they come in.
* We may revert to normal punches rather than pencil and paper - a more weather (and sweat) resistent option.
* There were concerns about a lack of 'off-trail' controls. Alas, that is often going to be a restriction for events that are held in urban bushland, and there isn't much we can do about that. It is a balance between events conveniently close and being able to go trampling around off-trail...
If you are interested in helping to organize one of these events, please get in touch! See you at the next one (perhaps later this year...)!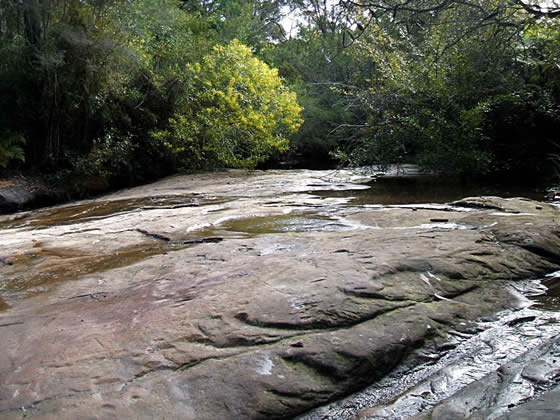 Creek at Manly Dam - doesn't look *too* hard to cross though!
---
For general information about this event, contact ...
Paddy Aicken
email: paicken@gmail.com
phone: 0427 182 683
For entry or results related matters contact ...
Lindsay Young
phone: 02 9525 6403
email: admin@nswrogaining.org