Have you looked at the results in Google Earth?
On the results page you can download a KML file, which you can open in Google Earth and produce views such as the one below that shows the route the winners took.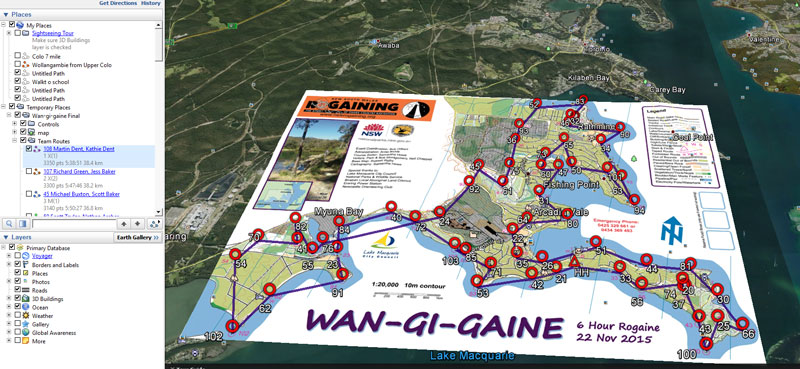 Thanks to Dave Baldwin, who aside from being an outstanding rogainer, wrote the software to facilitate viewing our results, including the Google Earth view.
There were a few gremlins with missing and misplaced flags, so if these results are not correct please drop a line to Anita Bickle.
---
Description:
This 6 hour event will start at 9:30 am and will be set on the shores of beautiful Lake Macquarie. The area has a lot of bush trails and some scenic cycle paths.
The map has pram friendly route choices, but you may prefer to bring a backpack or carrier so that you have more access to some of the nicest waterfront spots (and points).
Bring your swimmers for a swim after or during the event.
---
Need a partner for this event? Try our Partner Finding Service .
Need a lift or like to have someone share the travel costs? Try our Carpooling Service
---
For general information about this event, contact ...
Samantha Howe
email: samantha.howe@gmail.com
0425 329 661
For entry or results related matters contact ...
Anita Bickle
email: admin@nswrogaining.org
---