The Watagans forest area is a long finger of plateau cut by deep creek valleys only half an hour from Newcastle or an hour and a half from Sydney. We all enjoy the escarpment panorama to our west as we drive the Sydney / Newcastle Freeway. A spectacular scenic area, with valued historical sites, still beautiful, even after 200 years of forestry, showing what a well managed operation can do to retain natural values. Lake Macquarie Rogaine has used different parts of this natural wonderland for the past 21 years, to test the Rogaining skills of generations of Australians.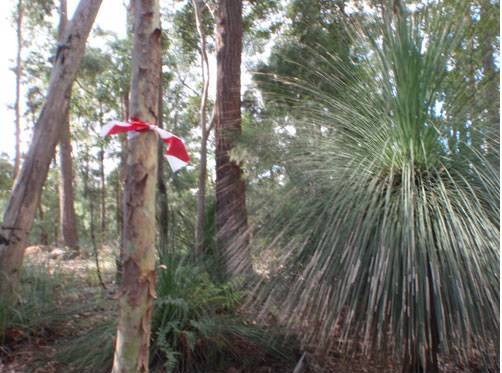 A checkpoit on the knoll.
The course setters are out there now selecting those delectable little gems of place, hidden in the Watagans Bush. You know the ones:-
the end of a spur with stunning views of cliffs and valleys beyond;
or winding through the forest to find the hidden groves of rainforest with intertwining leafy branches overhead and a ground scratched clear by lyre birds;
the green mossy creek beds dotted with rocks, tree ferns, with those big lazy hanging vines and clear of slowing undergrowth;
the rounded knoll with tall forest trees shading the striking grass trees (so like those early paintings of natives standing there with a grass skirt and long spears);
then the enormous fallen tree trunk over 20 ft through, few standing trees that big now;
the long open ridge with occasional vestiges' of logging track to make travelling between checkpoints so easy;
of course aided the network of roads and tracks to speed us on our way.

I won't lie, there are patches of scrub, vine and lantana interwoven with felled trees but we do our best to provide routs free of such annoyances, of course "provided you interpret the map well". Good on you Bert, Ian, and helpers keep up the good work.
The course is getting ready, are you? Remember Saturday August 13th, mark that date in your diary!
Dug Floyd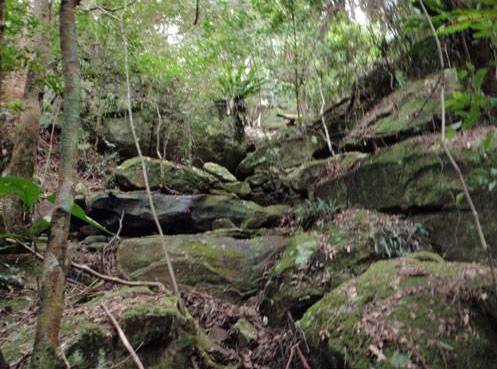 One of the delightful little, green, mossy, side creeks
cascading into a main creek