I think the photos, like that to the right, conveyed the mood; a big valley with a flat, sandy base and 200 metre climbs to the dissected plateau. There was lots of rock, but the cliffs weren't too hard to skirt or sidle around and they offered continuous lookouts and lookdowns. Our hashhouse site was close to ideal, with easy access from Sydney, oodles of space, flush toilets, friendly resident Ranger, cricket pitch and even covered workspace for our caterers.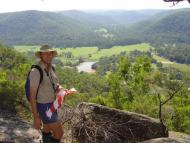 Course Setter, John Clancy out on the job.
Setters Chris Stevenson and John Clancy were able to create an expansive course, probably the biggest in the history of the event and certainly the most challenging. After a wet, south-westerly change that whooshed by on Saturday afternoon the night was clear with a touch of morning frost leading to a near-perfect winter day. To the above mixture add 700 keen and friendly people and we had all the necessary ingredients for another (the 41st) successful Paddy Pallin Rogaine.

The pleasure on coursesetter Chris' face was obvious as he watched the 242 teams scatter in all directions, some towards chilly feet on the first Colo River crossing, others moving up and down the valley to easy controls prior to climbing to the high country. I leave the participants to elsewhere tell the stories of their journeys and adventures. From the Admin tent we learned of a couple of sprained ankles, a shin puncture, and a throng of happy, tired rogainers returning for food, rest and a chat with friends new and old.

Many regular names appeared at the elite end of the scoresheet, with Andrew Hill & Rob Preston the overall winners, 90 points clear of Tom Landon-Smith & Alina McMaster. Matt Archison, Matt Blundell & Jay Wilson were 3rd, 50 points behind Tom & Alina, Ian Cameron & David Lyle topped the veterans (over 40) class, Peter & Colin Tuft headed the other families, Sue Kurrle & Katja Richter were the top women, while Bill Chalmers, Neil Chappell & David Lilley lead the superveterans (over 55) brigade.

But the results don't show the important non-competitive elements of the event, especially the new-timers who hadn't rogained before and the kids, such as the Broughton College outdoor ed students and the East Maitland scout troop, and the youngsters who had to be carried after an hour or two, or were carried from the start in papooses or backpacks. These are the people who were pleased to find one, or maybe three, controls in the bush.

By the way, the official number of participants was 661. When it comes to maximum number of rogainers in an event, this must be close to the most.
Trevor Gollan