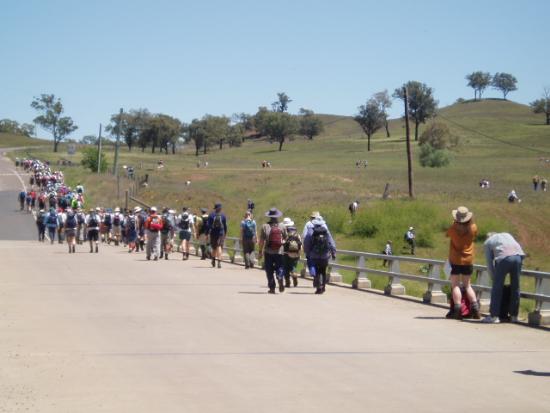 Photo by Pili Vazquez
This rogaine was held at Gundy.
Entrants had a choice of a 24 hour or a 15 in 24 hour course.
Reports ...
Photos ...
Route Maps ...
Team 95 (230KB JPEG)
To see the detail, download the map and open it with a viewer or image editor that allows you to zoom in.
---
The co-ordinator reports ...
Over two hundred and fifty people, many of them new to rogaining, actually took part in this year's NSW Championships rogaine at Gundy. A hailstorm the evening before and another on Sunday evening framed a weekend of near ideal conditions.
Like all rogaines, this one happened because a lot of people offered their time and energy to make it possible. My main role was as the course setter. Barry Brandon was my constant companion and adviser while Tony Maloney as vettor deftly fingered the problems. My wife Vicki did all the entry processing and got together her "Admin" team on the day of Joy and Charlie Thomson, Marly and Jack Sinden, Philip Groom. Alan Mansfield arranged the bus. The "All Night Cafe" was manned by Barry Brandon, John Mackay, Maurice Anker and Tony Maloney. John Keats led a Hash House team of Brian Haebich, Stephen & Tracy Ward, Kathryn Cox, Renate Griffith, Mike Hotchkis, Pauline Doyle, Rob Watson and Kerry Ayre. Terry Cooke was the man with the camera. David Dash has already collected in many of the flags. If I've missed anyone else in this listing, my apologies, it's just my poor memory/record keeping.
Mike Hotchkis provided the vital transport to the two unmanned water drops. Simply having enough water containers to keep up the supply is a problem when you combine hot dry weather with long drives in along 4WD tracks. I should also mention here that your ANC team apologises to the teams that got left without water when they came in through there in the closing hours of the event. When you have been up working most of the night your brain doesn't function very well. At least I know mine doesn't which is my excuse for somehow leaving the novice teams out at the prize giving. To all of you, both novice and old hand, thanks for coming, I hope you enjoyed the event and that you can relive it by browsing through the wonderful photos taken by Terry Cooke and others that will be placed on the web site very soon.
The landowners who generously allowed us use of their land were Phillip Adams & Patrice Newell, Karl & Shirly Casben, Ross & Dianne Deery, Ivan Holyman, Bruce & Elaine Kerswell, Harry & Sue Mitchell, Roger & Jeremy Minch, Merv Nicholson, Peter Sims and John Wharton.
Graeme Cooper, Course Setter and reluctant Co-ordinator.
---
Beginner's luck? (Gundy 2004)
by Ian Brown, November 2004
Rogaining is special, eh? What other sport can offer the likelihood of sunburn, dehydration, hypothermia, headaches, exhaustion, lacerations, nausea, chafing, blisters, plant stings, flagellation, blood-sucking invertebrates-and even electrocution-all in one event? Not to mention anger and joy and both the sweet thrill of success and the crushing bitterness of failure-perhaps only a few minutes apart.
I knew it was going to hurt. But I didn't know it was going to hurt so much, or so soon. Parrish is strolling up the steep slope above with hands in pockets, sniffing flowers and gazing at the sunset. I'm scrabbling along behind in quiet desperation, slower and slower. Parrish, a seasoned bushwalker, is cruising on his first rogaine and navigating really well (well, he does teach the bloody stuff). I'm usually right in there relishing the thick of the hunt, but now I was suffering the indignity of passenger mode. Well, I did want to be extended, and I knew Parrish would oblige (even though he claimed to be 'off the couch' with very little training).
Just before dark can be the worst time for me in a 24 hour event, but I know from past experience that once into the night (and usually slower travelling) I can rally and survive to the end. Now vague waves of nausea combined with a frightening lack of energy make me wonder if I'm even going to make the top of the first big climb-500m past 82 to 81.
I recall that at sunset four years ago during the Oz Champs, our team was just across the way, quixotically trudging up an even bigger climb towards the summit of Black Mountain. We thrashed our guts out in that one (quite literally for some), ascending nearly 4500m, but got trounced by nine other teams-including a mixed trio of supervet Kiwis (and super they were). The winners somehow got away with only a little more climbing than we did but 700 more points. Where did we go wrong?
Older and more infirm (but a little more cunning), I decided to try and look at this map three dimensionally, by linking controls at similar levels and minimising big climbs-to paraphrase an old bushwalking adage: take care of the metres and the kilometres will take care of themselves. On first look the course appeared hopelessly random, with constantly difficult choices (well done Graeme, an excellent technical championship!), but closer examination revealed some nice sweeps and subtle links.
Clockwise we decided, like nearly everyone else-not only because it got some high points early and left plenty of easy options, big and small, for the homeward leg, but because we could use the bridge over the river to avoid wet feet at the start! Our strategy aimed for about 2600, which seemed outrageous but strangely feasible. Even though Parrish was hopelessly unfit.
The sun is gone and in fading light we sidle across to 82. Not a minute too soon, as I was slowly grinding to an uphill halt. Six hours gone: 720 points, 21 kilometres and 1600m of climbing behind us. Plus a few nav blunders on my part that cost about half an hour. Of course I blame the heat. But even with lost time, the point acquisition rate says cleaning the course before we turn into dehydrated pumpkins at high noon tomorrow is a mathematical certainty ha ha.
"Do you reckon we can get to 56 before dark?", I ask Parrish. He's dubious, no doubt wondering if I'm going to blow out completely. "Maybe, at very last light", he says.
More climbing, but gently, takes us onto the ridge at 970m-the high point of the course and the low point for me. The altitude and cool breeze are heavenly. The thick, hot air of the valleys can be tough on us mountain-dwellers. We scoot down to 81 then I lead a neat direct route to the obvious 56 flag on a dam. Not dark yet. We've begun a long winding sweep down the mountainside through 5 controls and 340 points-one of the most elegant bits of our route and adequate reward for the punishing climb.
Hurrying across to a road we see fireflies flashing through the dusky bush. I've yet to complete a night rogaine without something interesting happening. Last time here it was a grunting koala on top of Black Mountain (yes Pat, there is koalas). And I love navigating in the dark because of the focus required, where every successful flag is a thrill-but its important to use daylight to get as far as possible first! By twilight's last gleaming we pull out the torches and drop down to 100. Always nice to bag a biggie.
A couple of hours after dark we're getting hungry and roll into the shed at 35, our water long gone and expecting hot food. Doesn't pay to misread the notes. We tuck into our own grub. Sitting on the mattresses, trying to rehydrate, we watch other teams come and go. All are quiet and seem knocked by the heat. When you're doing it tough, its good to know that everyone else is facing the same challenges too. I add more tape to some blisters.
Midnight: the witching time begins. We run into the Bert van Netten legend and his daughter Kim near 67. Top of the course and the turning point. They're looking good and go on to get 1710 points and the family trophy. Kim had the map by the throat when we parted-the next generation breathing down our necks.
Lagoon Mountain is another horror climb, but it had to be done. Night performance is so important, but its all becoming a blur. We see no-one else for four hours. I begin hallucinating back to scenes from the 2000 event. We drop 55 as a bad joke-the 'Hotchkis point' we like to call those loose and lonely controls hanging off the side of the course like a sailor washed overboard, that only someone going for the lot would even contemplate. But then again, with hindsight, maybe we should've....
Dawn comes too soon and finds us fumbling for 76 then a blessed breakfast at 24 (thanks boys!). Still so early, but the basin that leads us on is already like an oven, raising waves of dread over the heat to come. I wonder if we'll burn out. You can only do what you can do, but if you give up you're gone. Last time in the same valley there was heavy frost after a bitterly cold night.
Trudging just a shave faster, we catch the incredibly consistent Haighs at 57 and plod on to the top of the hill. They went downhill to take the mixed category. The committee should start a special Family Values Award for any marriage that can handle regular quality rogaining.
Parrish begins to feel the strain on the baking climb to 71. At last. Then the rising heat is leavened by altitude and cooler air from the east, and I begin to think that we might just make our quota. With three hours left we get onto the easier going towards home. Over-excited, I overshoot a turn in the easy ridge to 70. Rapid discussion. Parrish suggests a left-field solution and takes off jogging to claw back time. Zooming through perambulating ridges (no more mistakes!), we grab 32 on the fly. I'm out of water so we buddy-drink from Parrish's fatter bladder (don't ask).
One hour to go with another four controls on the list. But we're on the scent now and push painfully up the small hills and across paddocks dotted with thousands of purple fringed lilies (I love to see nature resisting). Three flags down and I'm out of it. I just want it over. Sixteen minutes left. One kilometre direct or two through 37-can we do it? Parrish has the killer in him and takes the lead again. Can't mess this one. He hits right on the flag. Eight minutes. Parrish punches while I run down the spur, a beeline for the hash house. Blisters and dodgy knees can't stop us now.
Parrish quickly catches up. "Why does it always end like this?" I squeak. We hit the river at a cliff. Early finishers are wallowing down there in the cool water. We've been dreaming of that. Bouncing down a gully we can't find an easy crossing. So we leap right in off the bank, waist-deep. What a finish. At 11.58 I'm flat on my back like a beached fish, heaving and dripping, while Parrish tries to figure out the scoring procedure.
Regrets? There's but a few. If Parrish had done a bit more training and pointed out a couple of minor route tweakings we might have cleaned the course in just six extra kilometres. That would have been lovely.
It was another great rogaine. I usually prefer bush courses but this was really interesting and varied terrain with a good number of subtle controls. And fences. Congratulations and thank you to Graeme, Vicki, Barry, Tony and all the other helpers. And thanks Parrish. I'll consider letting you come some other time but you'll have to lift your game (and carry all my water).
---
A perspective from team 50 (Paul Stein and Bob Kimbrey)
Heat, Hills and Hailstorms.... Well we missed the hailstorm thankfully (Muswellbrook copped it I believe), but the other two were certainly prominent features of the NSW Championships at Gundy on the 23rd/24th of October.
Bob and I once again paired up to tackle our first 24hr for the year in an area which was entirely private property, packed with wildlife (no snakes though?!?) and gave a great variety of terrain and navigation opportunity. We thought all the markers we achieved were correct and there seemed to be a very good balance of points on the map. It was a fantastic course!
I was one who had not been there previously and so naively helped to set a rather ambitious course (as you do) up through the western side of the course and zig zagging back down through the middle. We probably didn't take that much time planning the course and so changing it a few hours later (due to the heat and ferocity of the hills) didn't really bother us greatly.
So, onto our route. There seemed to be basically two ways people would head and it seemed that most chose to head west. 22, 30, 45 were all a bit of a procession but people started to thin out a bit as we headed to 27, 33 and then 66. It was hot and humid and we were glad that we had started a little more conservatively than usual. 62 then water stop where we chatted with other teams about the heat then 61, 65 (just after 3pm). Had a short break and made the decision to change our route to head up and across the centre. 54, 47, 46, 42 (decided against the 200m climb to 71) and headed to 73 then 26 and attempted to find 76 before ANC but didn't easily so had about a half hour break with some much appreciated toasted cheese sandwiches and coffee. Back to 76 then 41 (15 min break), 53, 60 and 92 were all gifts. Met up with Bert and his daughter as we headed toward 67 and learnt that was in fact Kim who was doing all the navigating as Bert had lost both his glasses and compass (both crucial I would have thought. Onya Bert!) Had previously decided against 101 so on to 50 and then 52 (sometimes those power line towers can come in handy for navigation). 72 gave us some grief but got it eventually by using the gate due south. 51 and then shed at 4am for a half hour sleep. After much debating about which direction to head we left at 4.50am, taking the much riskier route of trying to recapture the western controls that we had left behind earlier. It was cool and a very special sunrise greeted us as we made our way up to 63, 100 and then 56. Another short break near 81 (with the blow flies!) and then round the track to 82 before heading down, down, down to 75 (probably should have gone for 90). 91 was achieved with a number of different bearing points (just to make sure) and then 36, drinks and then onto the trail for the dash home. I shouldn't have asked my partner if he felt like jogging a little because once he started I had trouble keeping up and we certainly ended up having plenty of time to pick up 23, 31 and 20 and have a swim in the river before handing our card in at 11.40 with 1910 points (nearly 60km). We were quite satisfied!
Thanks once again to Graeme and his helpers for a great course and map (even if the white bits were the bushy parts) and weren't the Hash House and ANC volunteers wonderful as always.
---
For all information about this event, contact ...
Graeme Cooper
phone: 02 6772 3584
email: webmaster@nswrogaining.org
---