The Event Coordinator, Michael Watts, reports …
With 784 participants in 298 teams starting (and, thankfully, safely finishing), the 43rd Paddy Pallin rogaine held at Wingello State Forest has some pretensions to being the largest rogaining event ever held.
With the south-west of Sydney location, entries were noticeably stronger from the southern suburbs, Illawarra and Canberra. As usual for the Paddy Pallin, family entries were high and it was very pleasing to see the large number of novice entrants and, particularly, junior and novice teams.
The weather was very kind to us this year. The week prior was dry and the Sunday dawned clear and calm but cold. As the sun rose, it quickly warmed to the day's high of 19. With blue sky and some scattered clouds to the southwest, it really was terrific rogaining weather.
Congratulations to the category winners and placegetters and also to each of you for your interest and efforts. Hopefully your experience has improved your bush navigation skills and encouraged you to continue with rogaining – that sometimes black art of matching wits with the course setters, the accuracy and completeness (or otherwise) of the map and interpretations of it, and the joy of finding those pesky orange and white triangles. 66 teams scored over 690 and 255 teams – more than 85% - scored over 345; showing the vast majority of teams had quite a few successes on the day.
Robert Preston and Andrew Simpson scored a convincing win with 1380 points out of a possible 2160, 240 clear of second overall, veteran team Ian Cameron and David Lyle with 1140 and the mixed team of Mark Driscoll, Jenny Scott and Greig Scott third with 1070. This was Andy and Rob's second win in a row – you can see their chosen route on the NSWRA website.
The area designated for car-parking filled quickly – thank you for the efforts people made to car-pool – and by 8:00 we had to direct cars onto the lower road for overflow parking. In total there were approximately 400 vehicles on site for an instant village of nearly 900 people.
For those camping overnight on Saturday, everyone fitted into the available space, if a bit more snugly than usual. It did seem that there were quite a few people meeting old and new friends at a number of communal fires.
1st Waitara Scouts did their usual terrific job of catering, both for dinner and the end-of-event sausages, soup and salad. My daughter – not a keen fan of vegetables – had seconds of the vegetable soup and said it was the best she'd tasted, as well as devouring the roast! Having a water tanker stay on site was very useful, and thanks to Cross Roads Group from Moss Vale for making this possible by letting us keep their truck over the weekend at a very reasonable price.
By 6:45am the administration team was in full flow with overnight campers and early day-trippers lining up for registration and maps.
Course setters Nicole Sellin and Nigel McDonald set an excellent novice and extension course in a compact area. They had a philosophy that a 10 to 100 point range could not be reflected in the relative difficulty of controls, setting lower point limit than has been the case for previous Paddy Pallins. Most controls were placed at prominent locations, eg 14, 21, 12 and 23. To keep things interesting there was a sprinkling of harder controls and associated route choices – physically and navigationally. Some controls were located on more subtle features – such as 48, 55, 41, 58 and 43; others required some effort to get to – but were repaid by spectacular locations as well as the points – the Nyes Creek controls 70 and 71; some required careful map reading and attention to terrain – 58, 53, 74. Control 35, with a number of unmarked tracks around it, gave some teams issues. The control was on the second bench down from the gully head. There was another cross track, not shown, through the first bench between the S of Spotted Gum Road and just to the N of the 6 on the 600m contour, but was 40 metres shallower and was missing the prominent gully from the NNE.
At the start, they were both relieved and pleased to see teams scattering pretty evenly to each of the four closer controls. From there teams spread out rapidly to the rest of the control as they were faced with plenty of route choices and, past the first half hour or so, congestion at controls wasn't a problem.
As the finish time approached, teams started returning in an increasing rush. In the last 20 minutes, 75% of teams finished. The admin team coped tremendously, dealing with the huge task of checking for missing teams, entering control cards and getting out individual team and overall event results.
Robert Pallin and Mike Hotchkiss did a fine job entertaining the crowd while the results were compiled and checked. They were helped by the Paddy Pallin stores having generously donated a desirable prize pool. As is traditional with the event, each year a donation is made to an organisation that Paddy Pallin, the man, supported in his lifetime. The National Parks Assocation of NSW received a $500 donation, to continue their work of protecting natural areas, ensuring there is bush to walk in.
Thanks also to everyone for a good clean-up job at the hash house site. There was very little junk left to pick up on the Monday, and we got a good report from the State Forests ranger on how the area was left. This is quite important, both in having State Forests happy to host us again as well as positive feedback for hosts at other prospective rogaine sites.
The St John Ambulance crew of Rhonda and Stuart Scott provided wonderful peace of mind. Fortunately they had only two customers – a gashed arm and a sprained ankle.
Finally, thanks from the organising group. Your participation allows us, too, to have a good time organising the event – well, with only the occasional hissy fit and dummy spit!
May the compass be with you! See you at the next event …
---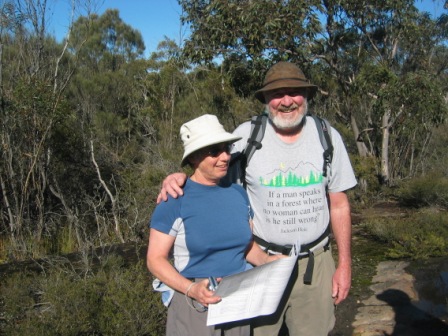 Robert and Nancy Pallin out on the course near the lookout into
the canyon of Morton National Park at 72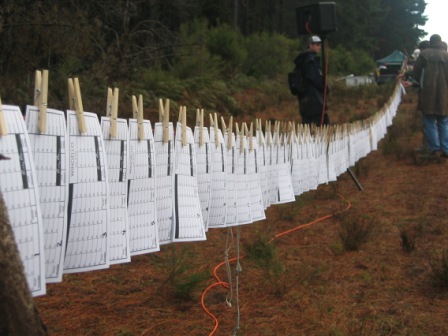 Control cards of 300 teams at the world's biggest rogaine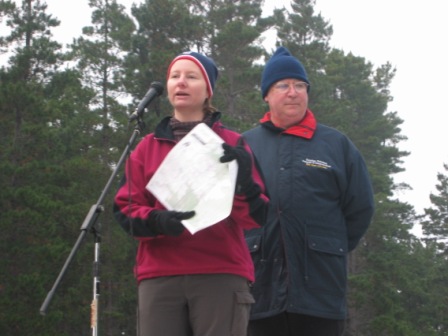 Course setter Nicole Sellin and organiser Michael Watts at the start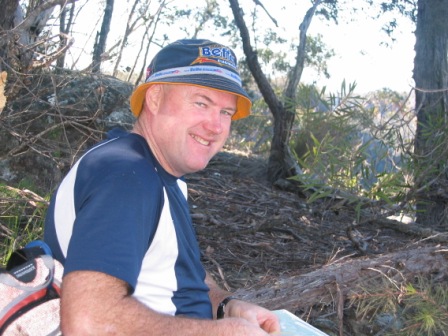 Peter Cox on the course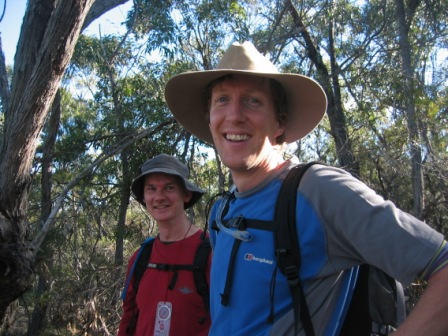 Andrew Pope and Andy Mein near 72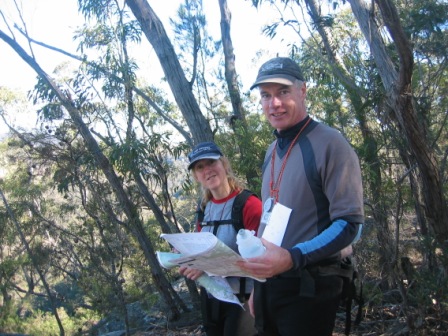 Enjoying the navigation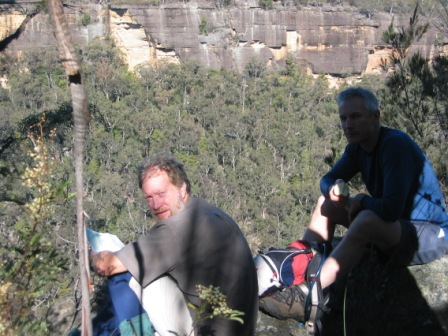 Enjoying lunch at the viewpoint of 72